Mens Faux Silk Torc Adjustable Cockring and Sodalite Stone Wristband Midnight Nouveaux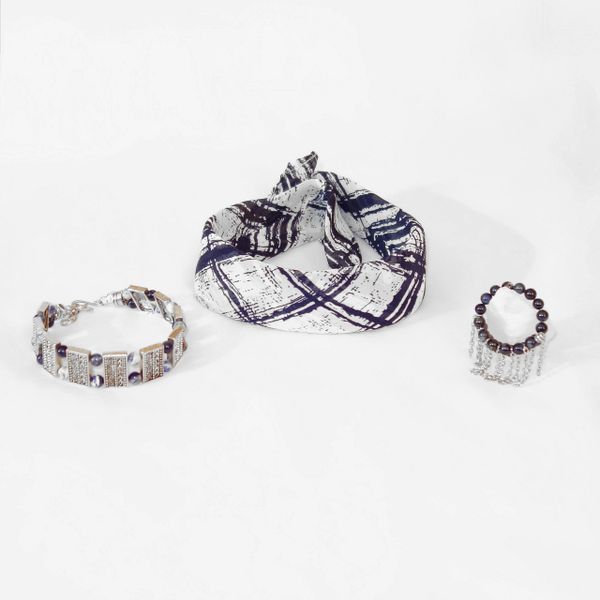 Mens Faux Silk Torc Adjustable Cockring and Sodalite Stone Wristband Midnight Nouveaux
Mens Faux Silk Torc, Sodalite Stone Wristband and Adjustable Cockring
Midnight Nouveaux  (Read about Under The Hoode Adjustable Style Cockrings here)
Available Diameter Size Ranges for Adjustable Cockring (description further below)

25mm-30mm (1 in. to 1-3/16 in.) Diameter = 80mm-94mm (3-1/8 in. to 3-3/4 in.) Circumference
28mm-35mm (1-1/8 in. to 1-3/8 in.) Diameter = 90mm-110mm (3-1/2 in. to 4-5/16 in.) Circumference

Read how to measure yourself for a cockring here
Custom Sizing - Check Availability
We're far from traditional, a little off the beaten path as a matter-of-fact... always looking to evolve the customary to extraordinary - which led us to revolutionize the torc into neckwear with fashion and flare.  Geometric infinity can be found in this faux silk torc with midnight blue patterns on white, a quick stitch seam on the inside and two heavy weight, bold decorative silvertone barrel ends. Super strength magnetic closure ensures a secure connection. Approximately 1-1/2 inches wide, 21 inches long.
Sodalite is a minor gemstone of self-expression and confidence; self-worth, self-acceptance and self-esteem. Sodalite helps achieve emotional balance - a stone of self-healing that releases the past.  What a great gemstone to surround yourself with in this handsome wristband of distressed silvertone elements, each with intricately detailed scrollwork designs accompanied with sodalite gemstone accents; spacers and hexnuts at each end and a fish-hook closure that's easy to use and holds securely. Measures 3/4 inch wide and fits wrist sizes 8 to 9 inches.

Adjustable Cockring in 6mm genuine network stone, smoothly polished with a midnight blue color and accented with silvertone chain dusters. Tension assembly to allow for expansion and contraction as needed.  6mm (3/16 inch) wide. Select from 2 pre-set sizes that fit most men.

All cockrings are for casual jewelry wear, ornamental purposes only. Cockrings specific to sexual activity can be found at UnderTheHoode sex toy store affiliate: Under The Hoode Toy Box.

Items are not gift boxed.l

COPYRIGHTS: Under The Hoode, Adjustable Style Cockring and ring designs are exclusive copyrights of Under The Hoode, LLC Feb. 2006 (c)