Sex Cards XXX Cards Sexy Cards Set of 5 Under The Hoode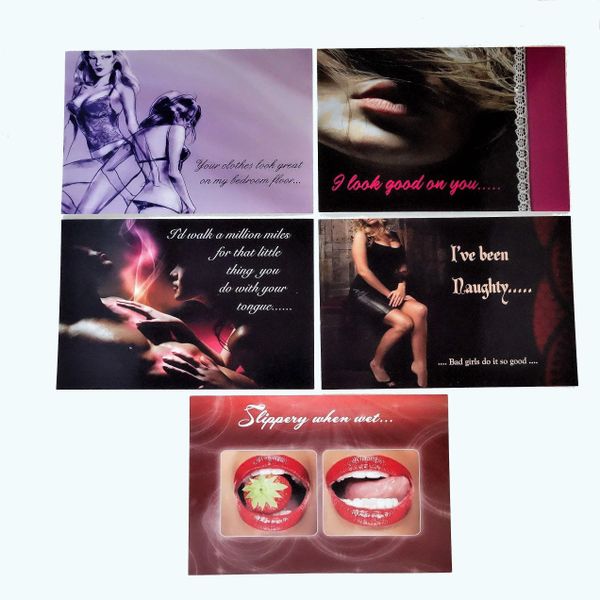 Sex Cards XXX Cards Sexy Cards Set of 5 Under The Hoode
Sex Cards Custom Printed XXX Cards Set of 5 Romantic, Intimate, Sexy, Erotic Cards
A few little words to make a heart pound….
Romance is thrilling and spontaneous!  A touch, a look, an embrace….  Set the anticipation by planting a romantic card with a quick, intimate phrase that will challenge... promise… entice…
A set of five (5) top quality, professionally printed, romantic and sexy intimate flat cards with enticing designs and alluring messages that you can add your own special message to on the reverse side. Rev his imagination - give directly or place anywhere for your partner to find and enjoy.  Each card measures 6 inches across and 4 inches wide. Blank reverse side to add your own message. Flat cards, no envelopes.
Blank reverse side to add your own additional words or message.  
FRONTSIDE MESSAGES:
 Your clothes look great on my bedroom floor....  Stormy lavender color with charcoal black sketchings, models in sexy lingerie
 I look good on you..  Sexy model close up photo of full, luscious pink lips shadowed below sweeping windblown hair
 I'd walk a million miles for that little thing you do with your tongue..... Sexy couple interlude with nude partial silhouette in background
 I've been naughty.....   ..... Bad girls do it so good.... Parlor room hottie in little black leather dress and black heels
 Slippery when wet...  Luscious red lipstick lips - once with a strawberry and the next with a tongue tease
Blank reverse side to add your own additional words or message.  
SET OF FIVE (5) Cards measure 6 in. X 4 in. - Flat Cards, no envelopes
Keep these cards handy for the moment that inspires you.  
Can also double as icebreaker cards.
Out with your friends and see a Hottie?  Your chance to be original – buy a drink and have the waitress deliver it with one of these little cards.  
• Remain anonymous…
• Add a message to the back…
        o "You're HOT – Call me!"  [your phone number]
        o "I'm yours if you can find me…" [add details]
        o "Can you find me? I'm wearing…." [add details]
        o Add your own fun and tempting challenge message
What else can you do with these lustful cards?...
• Spray card with your favorite perfume
• Kiss the back of the card with your favorite lipstick
• Add your own words – maybe a time and place…
• Attach to a gift, massage oil, a can of whip cream…
• Place in an unsuspecting place…
       o On a steering wheel
       o With a lunch
       o In a pocket to be found
       o ………………?
Under the Hoode ™ and designs are exclusive copyrights of Under The Hoode, LLC 2006 ©