SIZE MATTERS!  See how to measure yourself for a cockring (see below) then shop the largest selection of custom size cockrings and designer penis rings at Under The Hoode. Penis jewelry designs available in 5 styles that include adjustable cockrings, expandable cockrings, frenum rings, glans rings, many styles that can be worn as scrotum rings and more in an amazing array of colors, elements and textures for the best prices. You have a choice – select your comfort, mix and match your favorites.
5 CUSTOM STYLE NONPIERCING COCKRINGS  to choose from – penis jewelry to wear alone or mix and match penis ring styles for your own unique look.  All cockrings are for casual, ornamental wear only. Visit Under The Hoode Toy Box for sex toy cockrings.
Cuff Style Cockrings - Solid cast cockrings with cut-away section at the bottom. Single sizes, does not adjust.

Flex Cuff StyleCockrings - C-Shaped cockrings on flexible tension base to allow comfort size adjustment as needed.

Expandable Cockrings – Full circle cockring design on stretchable filament allows for size adjustment. Gaps may occur between elements during expansion.
Adjustable Cockrings – Full circle cockring design with crossover ends underneath allows for size adjustment with no gaps between elements during expansion.
Free-form Cockrings – C-Shaped cockring on flexible base to allow size adjustments through stretch and flex combination with tie cords below. Fits all sizes unless otherwise noted in description.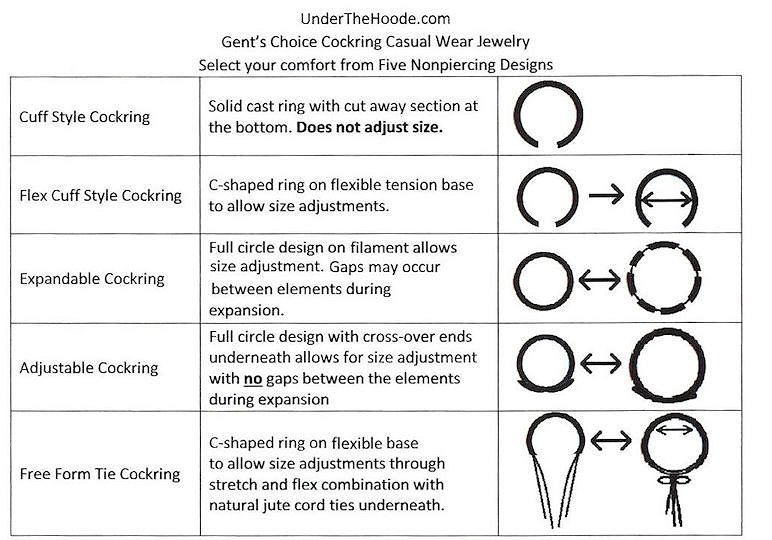 HOW TO MEASURE YOURSELF FOR A COCKRING  Maybe you've shopped for cockrings online before - you know, the 'custom size penis ring' where you have 3 size choices and you get the inches measurement in decimals. Ever tried to figure that out - X/10 decimal measurement on a X/16 marked ruler? It's a head banger! - unless you're pretty good with Algebra. Then you're told to "wear where most comfortable".  Okay....
Well, we could do that - order a box of stainless steel cockrings from China in 3 sizes and sell them to you for $14.99 a piece - if you're looking for that deal, it's on Amazon.
So, we recommend measuring yourself - yeah, because you have more than 3 size choices so, why not? Get as close as possible. And, guess what? We've got the inches measurements just like on the ruler so you don't have to dust off your Algebra skills.  But, wait - here's the best part - we have the complete chart set up for you!  Yep, right here on this page.  So, measure yourself for a cockring by measuring all the way around - this is your circumference.  Here's a tip - you could be a different size at the penis head, penis shaft and at the penis base, so measure yourself in different places - write them down so you have them handy. Then, check our complete chart below on this page to see what cockring diameter you need.  Check the left column labeled "CIRCUMFERENCE" for your own measurement - we gave millimeters and inches just in case - and then follow the "=" sign over to find your equivalent diameter - we gave millimeters and inches here too. Now go shopping !  :)  You're welcome!
PS- Remember, the measurements provided in the ring descriptions represent the inside measurement of the ring and not the size of the man it fits. To clarify: If your measurement is 110mm around/circumference which equates to a 35mm diameter, a 35mm diameter cuff style ring will be too tight for you - there is no extra room to get it on/off and a cuff style ring itself does not adjust. A flex cuff or other adjustable ring style that will adjust to a larger size would be a better choice or a slightly larger diameter cuff style ring.