Z Sold - Submissive Men Unisex Choker Chain Necklace and Nipple Clamps Clips Brasstone Metal Under The Hoode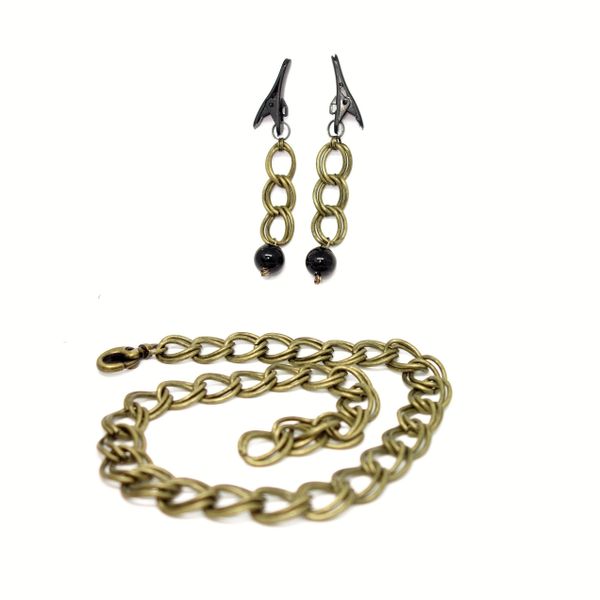 Z Sold - Submissive Men Unisex Choker Chain Necklace and Nipple Clamps Clips Brasstone Metal Under The Hoode
Submissive Men Unisex Choker Chain Necklace and Nipple Clamps Clips Brasstone Metal

His or Hers Mens or Womens Unisex Adult Submissive Bold Link Choker Chain Necklace with Matching Weighted Nipple Clips Clamps 
Under The Hoode Intimate Jewelry and Gifts
Choker necklace features large, bold 3/4 inch metal chain links in matte brasstone finish; double link design, smooth, flowing appearance; large, bold brasstone metal clasp allows this piece to work easily for submissive man or woman and readily adjusts to the perfect size by securing to any of the choker links for just the right fit. Measures 18-1/2 inches long. To measure for this item, using string to wrap completely around the neck and then measure distance along ruler.
Heavy weight.

Nipple clips/clamps feature black toothless polymer clips that offer constant pressure without harsh, toothed metal clamps; accented with
large, bold 3/4 inch chain links in matte brassstone finis and an ebony composite bead dangle at the bottom
; clamp area measures 1/4 inch (7mm) wide and approximately .5 inches (12mm) deep; dangles provide vibration with movement.  Total dangle length measures approx 2-1/2 inches. Prepare nipple, peaking to erectness. Pinch to fit clip width with slight outward pull. Attach clip from underside of nipple and release.
Items is not gift boxed.


COPYRIGHTS: Under The Hoode and intimate jewelry designs are exclusive copyrights of Under The Hoode, LLC  Feb. 2006