Z Sold - Stormy Quartz Stone Yoni Egg Ben Wa Jewelry Under The Hoode Stormy Tassels Cascade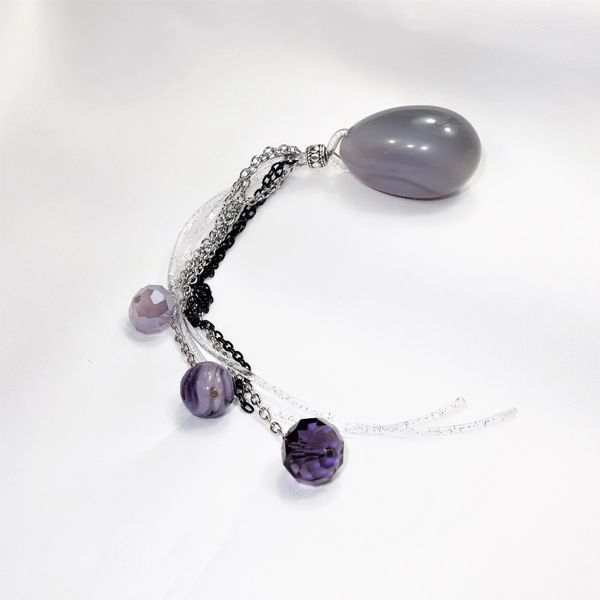 Z Sold - Stormy Quartz Stone Yoni Egg Ben Wa Jewelry Under The Hoode Stormy Tassels Cascade
Custom Stormy Quartz Stone Yoni Egg Ben Wa Bead Jewelry Cascade
Stormy Tassels Cascade
Under the Hoode Intimate Jewelry and Gifts
A twist on ben wa in a single bead jewelry design!  Provides excellent muscle toning. Ideal for Dom's no-panties submissive, enticing foreplay for couples, or just to enjoy for oneself.
Heavy bead jewelry cascade.  Custom designed and created stormy natural quartz stone yoni egg ben-wa bead jewelry cascade features a smoothly polished egg shaped quartz stone which has a beautiful stormy purple grey color, reminiscent of thunderstorm clouds; heavy weight stone measures approx. 1-1/2 inch long, 1 inch wide at the largest end; finished below with a cascade of beautiful silvertone and flat black chain tassels accented with purple hue accent beads: one dark purple glass bead, one opaque lavender crystal and one hand-cast ornate glass marbled with lavender and purple swirls; finished at the top with an ornate silvertone finish metal barrel bead and includes a silver glitter plastic retrieval cord; all tassels intimately intertwine with each other with movement. Total length 7-1/2 inches (19.25cm).  All items are for jewelry wear, ornamental purposes only. >>Toys specific to sexual activity can be found at UnderTheHoode webstore under: Under The Hoode Toy Box.
Item is not gift boxed.
COPYRIGHTS: Under The Hoode and ben wa bead jewelry cascades are exclusive copyrights of Under The Hoode, LLC Feb. 2006 (c) 
Read about Under The Hoode Ben Wa Jewelry