Z Sold - Snug Fit Poison Series Ring Adjustable Cockring Frenum Ring Glans Ring Penis Jewelry Under The Hoode Rattlesnake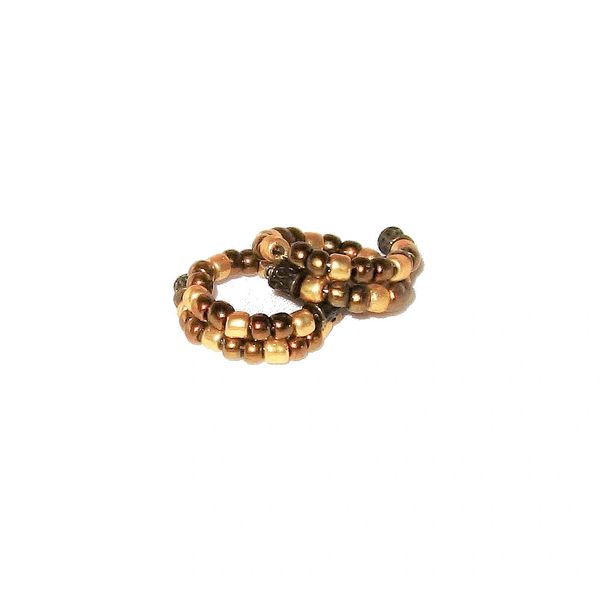 Z Sold - Snug Fit Poison Series Ring Adjustable Cockring Frenum Ring Glans Ring Penis Jewelry Under The Hoode Rattlesnake
Cock Ring Nonpiercing Frenum Ring Mens Intimate Jewelry Penis Collar Shaft Sleeve Accessories
Do you like dangerous things...?
Snug Fit Poison Series Adjustable Cockring - Rattlesnake - No Pinch Comfort Fit
QUICK REF GUIDE - CASUAL WEAR CUSTOM COCKRING JEWELRY
RING WIDTH: Narrow 4mm (3/16 inch)
RING STYLE: Adjustable
RING DESIGN NOTES: Tension assembly will expand/adjust, maintaining original uniform appearance - no spaces or gaps
Smallest sizing info for this ring:
SMALLEST DIAMETER: 17mm (3/4 inch)
SMALLEST CIRCUMFERENCE: 53mm (2-1/8 inch)
Will this adjust to larger sizing?: Yes
LARGEST DIAMETER: 28mm (1 inch) +
LARGEST CIRCUMFERENCE: 80mm (3-1/8 inch) +
Under The Hoode Intimate Jewelry and Gifts
Rattlesnake Poison Series Casual wear, self adjusting mens cock ring features copperhead pattern of dusty earth colors - alternating blonde and brass colored glass beading; this piece has that earthy brass coloring you'll find on the rattlesnake; smaller base design for tighter grip; tension spring assembly to allow for expansion and contraction as needed; Fits average male. [If you would like to measure for this item, using a string or other material measure all the way around the area where the ring will be worn. Measure the length against a ruler and see guide above.
Item is not gift boxed.
COPYRIGHTS: Under The Hoode and ring design are exclusive copyrights of Under The Hoode, LLC Feb. 2006 (c)
Ever wonder how it would feel to be held all day long...?
Here's what some customers have said about their custom pieces:
"It's an erotic experience to slip one on!" A. from Northeast US
"I really enjoy the look of them." A. in Pennsylvania
"Very nice!" V. in New York