Barefoot Sandal Anklets & Clit Clip Set All Sizes Under The Hoode Aqua Crystal Elegance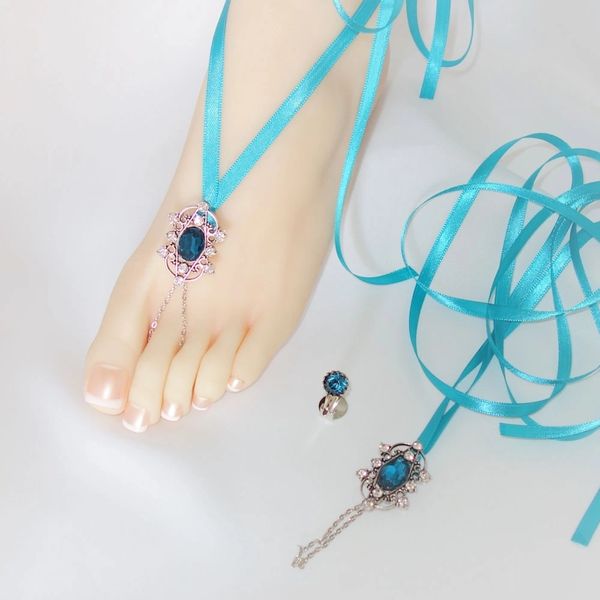 Barefoot Sandal Anklets & Clit Clip Set All Sizes Under The Hoode Aqua Crystal Elegance
Barefoot Sandal Anklets (All Sizes) & Clit Clip Set Sparkling Aqua Crystal Elegance

Why ribbons? I prefer ribbons for several reasons. First and foremost, they're sexy.  Ribbons are just plain sexy.  The texture is sexy, the soft curves are sexy, and the process of unwrapping (removing) them is sexy. Cascading extra lengths of ribbons is also sexy.  Ribbons fit any size. Adjust the length easily to fit - no matter what size you are shopping for. Ribbons don't "spin around" with the clasps moving around to the front. Surprisingly, they are easy to care for.  Iron as needed; satin/polyester ribbons use cool iron; acetate/crisp ribbons use medium iron.

Barefoot Sandal Anklets: Adjustable womens All Sizes sandal anklet jewelry with silky soft teal satin ribbon ankle wrap; features a 1-3/8 inch long (3.5cm) ornate silver tone charm with sparkling crystals around the perimeter and a faceted cut aqua blue crystal focal center. When wearing anklet, allow slight room for flexing of foot when walking.  Total of 70 inches of satin ribbon for tying to fit any size foot. Cool iron as needed.

Nonpiercing clit clip: Silvertone base clip features a 3/8 inch (10mm) marine blue focal piece in brass tone crown setting; stud clip design for fake pierced clit look; no dangle below; measures approx. 3/8 inch across (approx. 10mm). Illustrated instructions included with purchase.  Stays on. Contains mixed metals and small rubber insert on the base clip.

Items are not gift boxed.

COPYRIGHTS: Under the Hoode and clip design are exclusive copyrights of Under the Hoode, LLC Feb. 2006 (c)

  **** Follow  @underthehoode  on INSTAGRAM for exclusive savings and feeds on all new webstore items !