Z Sold - Scrotum Ring Southwestern Theme Tressle Tassel Adjustable Cockring Penis Ring Penis Jewelry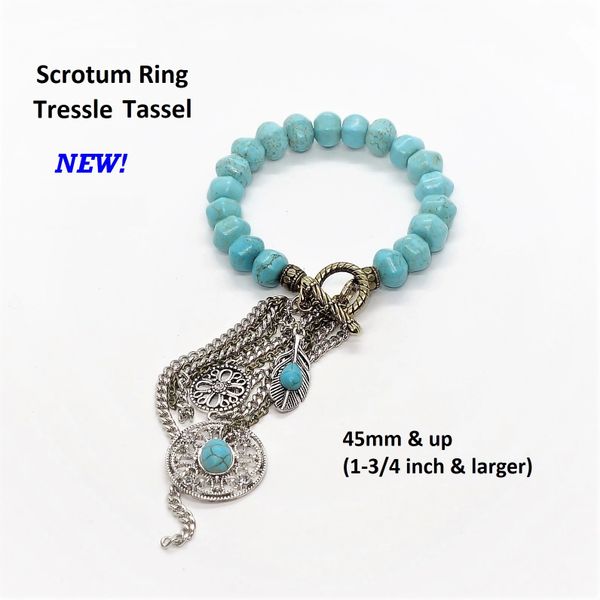 Z Sold - Scrotum Ring Southwestern Theme Tressle Tassel Adjustable Cockring Penis Ring Penis Jewelry
Scrotum Ring - Southwestern Theme Tressle Tassel

(Read about Under The Hoode Adjustable Style Cockrings here)
Diameter Size Range 
45mm-51mm (1-3/4 in. to 2 in.) Diameter = 140mm-160mm (5-1/2 in. to 6-1/4 in.) Circumference
Read how to measure yourself for a cockring here
Custom Sizing - Check Availability   Not available in smaller sizing - Larger scrotum ring sizing available
Get ready for a new next level of jewelry designs you'll find nowhere else! Our custom designed scrotum ring has the top shelf quality you're looking for with a handsome tressle tassel. Designed for scrotum ring wear (behind cock and balls) but can be worn at the base of the shaft if your size permits. Bold turquoise dyed howlite stone elements, hand cut similar shapes and smoothly polished - each stone with its own unique marbling pattern; finished with bronzetone barrel ends and distressed bronze links with toggle clasp closure.  Gentle tension assembly allows flexibility for easy placement with secure and decorative toggle closure. Finished below with a tressle cascade of chain tassels and Southwestern theme charms.  Ring measures approx. 10mm (3/8 inch) wide. Tressle cascade length is 3.75 inches to bottom charm and approx. 4.5 inches to bottom of longest tassel. Not gift boxed.
Tressle [Urban Dictionary]: to tickle the underside of a ballsack with light flutter motion

All cockrings are for casual jewelry wear, ornamental purposes only. Cockrings specific to sexual activity can be found at UnderTheHoode sex toy store affiliate: Under The Hoode Toy Box.

COPYRIGHTS: Under The Hoode, Adjustable Style Cockring and ring designs are exclusive copyrights of Under The Hoode, LLC Feb. 2006 (c)