Romantic Intimate Sexy Ice Breaker Club Night Lust You 2X3in Pocket Cards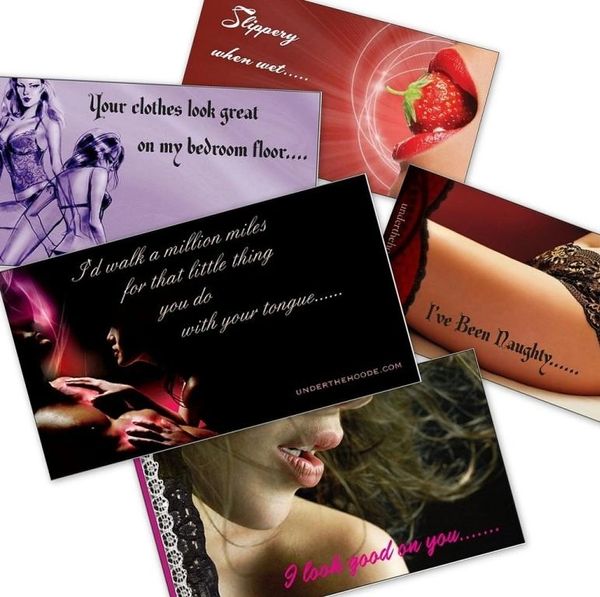 Romantic Intimate Sexy Ice Breaker Club Night Lust You 2X3in Pocket Cards
Romantic Intimate Sexy I Love You Pocket Cards


A few little words to make his heart pound….
A unique, sexy ice-breaker for the Hottie you're dying to meet....
 
Romance is thrilling and spontaneous!  A touch, a look, an embrace….  Set the anticipation with an erotic little pocket card with a quick, intimate phrase that will challenge... promise… entice…

Ten pocket cards (two of each design) perfect for romantic and sexy intimate notes with enticing designs and alluring messages that can be placed anywhere for your partner to find and enjoy.  Blank reverse side to add your own additional words or message. Cards measure approx. 2 in X 3.5 in.
 
Keep these handy little cards with you for the moment that inspires you.  
Out with your friends and see a Hottie?  Your chance to be original – buy a drink and have the waitress deliver it with one of these little cards. 
• Remain anonymous…
• Add a message to the back…
o "You're HOT – Call me!"  [your phone number]
o "I'm yours if you can find me…" [add details]
o "Can you find me? I'm wearing…." [add details]
o Add your own fun and tempting challenge message

What else can you do with these lustful little bits?...
• Spray card with your favorite perfume
• Kiss the back of the card with your favorite lipstick
• Add your own words – maybe a time and place…
• Attach to a gift, massage oil, a can of whip cream…
• Place in an unsuspecting place…
~ On a steering wheel
~ With a lunch
~ In a pocket to be found
~ ………………?