Quartz Yoni Stone Ben Wa Jewelry Nipple Clip Set Shimmering Rainbow Tassels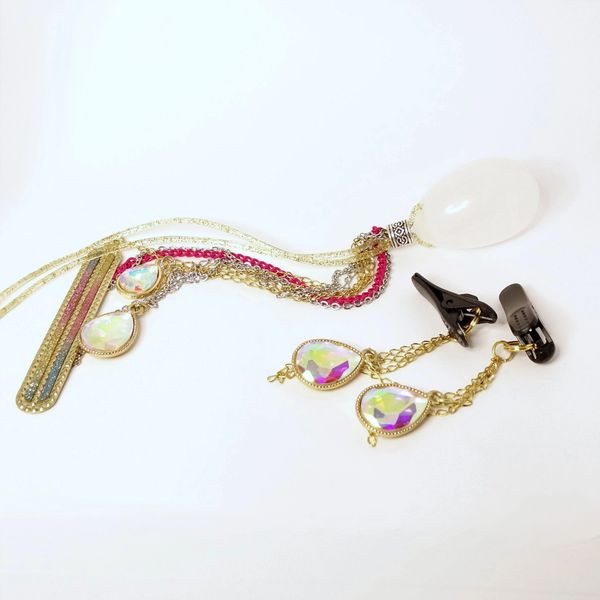 Quartz Yoni Stone Ben Wa Jewelry Nipple Clip Set Shimmering Rainbow Tassels
Quartz Yoni Stone Ben Wa & Nipple Clip Jewelry Set

(Read about Under The Hoode Ben Wa Jewelry Cascades here)
Heavy stone jewelry cascade.  Custom designed and created howlite yoni egg ben wa jewelry cascade features a smoothly polished egg shaped quartz stone; heavy weight stone measures approx. 1-1/2 inch long, 1 inch wide at the largest end; finished below with a cascade of stainless steel silvertone and goldtone chain tassels accented with a glittering rainbow pendulum charm and two shimmering rainbow aurora borealis teardrop charms; includes a gold glitter retrieval cord; all tassels intimately intertwine with each other with movement. Total length 9 inches (23 cm).

Great for muscle training and toning.  Excellent for Dom's no-panties submissive, enticing foreplay for couples, or just to enjoy for oneself.
All items are for jewelry wear, ornamental purposes only. >>Toys specific to sexual activity can be found at UnderTheHoode sex toy store affiliate: Under The Hoode Toy Box.
Matching nipple clips feature black toothless polymer clips that offer constant pressure without harsh, toothed clamps accented with aurora borealis teardrop charm shimmering a rainbow of colors and stainless steel goldtone chain tassel; clamp area measures 1/4 inch (7mm) wide and approximately .5 inches (12mm) deep; dangles provide vibration with movement.  Total dangle length is approx. 2-1/4 inches to bottom of teardrop charm. Prepare nipple, peaking to erectness. Pinch to fit clip width with slight outward pull. Attach clip from underside of nipple and release.
COPYRIGHTS: Under The Hoode, Ben Wa Jewelry Cascades and Nipple Clips design are exclusive copyrights of Under The Hoode, LLC Feb. 2006 (c)