Z Sold - Pierced Nipple Jewelry & VCH Piercing Jewelry or Nonpiercing Clit Clip Under The Hoode Coppertone Tasselled Elegance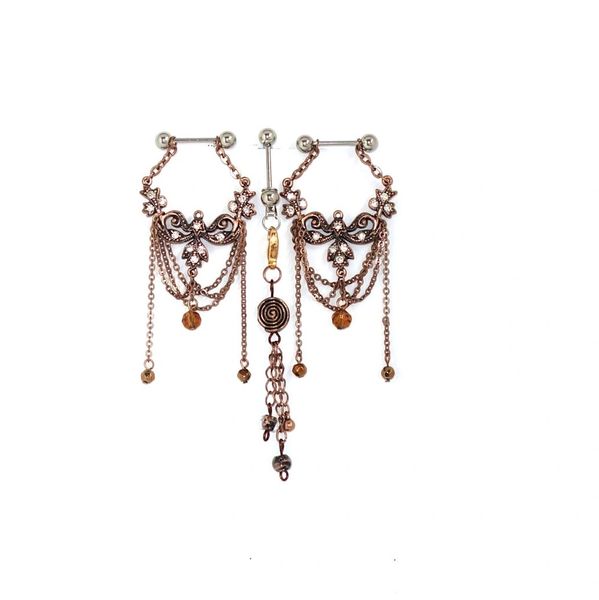 Z Sold - Pierced Nipple Jewelry & VCH Piercing Jewelry or Nonpiercing Clit Clip Under The Hoode Coppertone Tasselled Elegance
Pierced Nipple Jewelry Cascades
AND
Matching Clit Jewelry - VCH Piercing Jewelry with VCH Piercing Bar Base Adaptor <<OR>> Nonpiercing Clit Clip
Coppertone Tasselled Elegance
Under The Hoode Intimate Jewelry and Gifts
The pink harem set was a big hit and I said I would not make a similar set again.... but I continue to find inspiration in these designs - they are just so beautiful once completed, even though they are a tremendous amount of work to complete.
:(
This complete set includes:
>two pierced nipple jewelry cascades
>one clit jewelry cascade
>one clit jewelry base attachment - your choice of VCH piercing bar base adaptor or nonpiercing base clip
Descriptions:
>>Pierced nipple jewelry cascades feature beautiful, elegantly scrolled arched design with an almost woodland fairy-like appearance - if you look closely you may find a woodland fairy at the center with sparkling crystals at the head, wings and a trio at the body and arched vines reaching upward
to three sparkling crystals on each side; accented below with lovely coppertone chain swags and tassels
and sparkling crystal dangles; all suspended from coppertone chains; lots of chains and swag effects to add to a very feminine look; feeds onto nipple piercing bars; dangle length from the bar down to the bottom of the chain swags is 2-3/8 inches (6cm); dangle length from bar to bottom of side tassels is a long and sexy - 3 inches (approx. 7.6cm). *Piercing bars not included.
>>Clit Jewelry available in Non-piercing Clit Clip or VCH Pierced Clit design.
>VCH Piercing Jewelry Cascade features a spiral coppertone charm with a cascade of matching coppertone chain tassels below accented with shimmering glass bead dangles; lobster claw clasp at the top for quickly attaching and detaching from VCH piercing bar base adaptor. Total dangle length is 3 inches (7.5cm). *Piercing bar not included
>VCH piercing bar base adaptor included with VCH piercing style selection.
VCH base adaptor is a silvertone stainless steel element that feeds onto a VCH piercing bar or ring which allows for attaching and removing charms and jewelry cascades. Easy to use. Simply feed base adaptor onto piercing bar or ring and leave in place. Attach and remove jewelry cascades and charms to and from the available attachment ring. *Piercing bar not included
>Nonpiercing Clit Clip Jewelry Cascade feature same style above on nonpiercing base clip.
Illustrated instructions included with purchase. Stays on. Contains mixed metals and a removable small rubber insert on the base clip.
Items are not gift boxed.