Z Sold Pierced Nipple Double Chain Swag Set Under The Hoode Faux Blue Lapis Medallions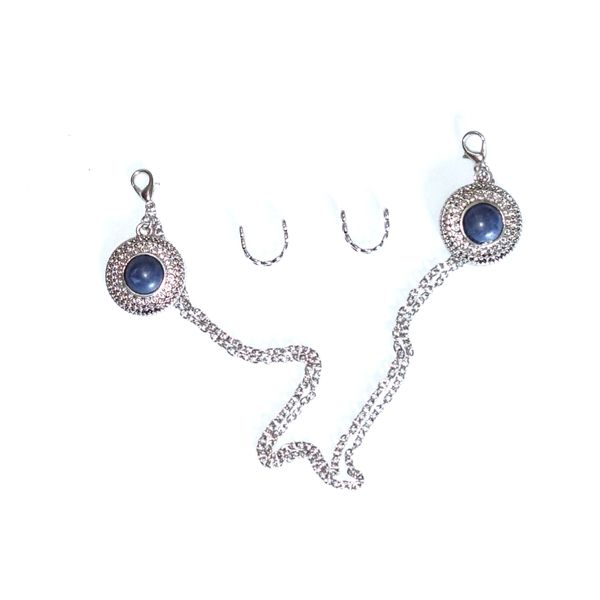 Z Sold Pierced Nipple Double Chain Swag Set Under The Hoode Faux Blue Lapis Medallions
Pierced Nipple Double Chain Swag Set - Silvertone Faux Blue Lapis Medallions
Under The Hoode Intimate Jewelry and Gifts
Do you have pierced nipple bars and would like to change your nipple jewelry to match your outfit or fit your mood? It's quite bothersome to unscrew and screw ball ends every time you want to make a change. Under The Hoode pierced nipple bar base adaptors are decorative in design and contour around and underneath the nipple - designed for a piercing bar to quickly attach/detach/change your nipple jewelry charms quickly and easily without the inconvenience of managing the ball ends.

Base adaptors available for nipple and VCH piercing bars at Under The Hoode.

Double nipple chain features contemporary focal designs of 7/8 inch (23mm) diameter metal charms in silvertone finish, etched around the perimeter with ornate designs and accented in the center with a faux blue lapis focal piece; double swag silvertone chains connect the two charms; shortest chain length is 8-3/4 inches; lobster claw clasps at each end to allow for quick and easy attachment and removal from bar base adaptors included with purchase. Quality piece.

Nipple piercing base adaptors feed onto a piercing bar to allow attaching and removing charms, chains and jewelry cascades. Easy to use. Simply feed base adaptor onto piercing bar or ring and leave in place. Attach and remove jewelry cascades and charms to and from the base adaptors. Brasstone finish base bridge designs have a smooth curve and matte finish - offers simple style even when charms or chains are not attached. Curved design follows the curvature around the nipples; measures 3/8 inch inside width and 3/8 inch length from bar to bottom of adaptor. Hole size is 3mm and fits 12 gauge bars or smaller. Contains mixed metals; routine cleaning/maintenance.

** Piercing bars not included **

Item is not gift boxed.

COPYRIGHTS: Under The Hoode and nonpiercing nipple jewelry design/system are exclusive copyrights of Under The Hoode, LLC Feb. 2006 (c)