Z Sold - Pierced Nipple Bar Base Adaptors Under The Hoode Roman Elegance Goldtone Pink Rhinestone Teardrops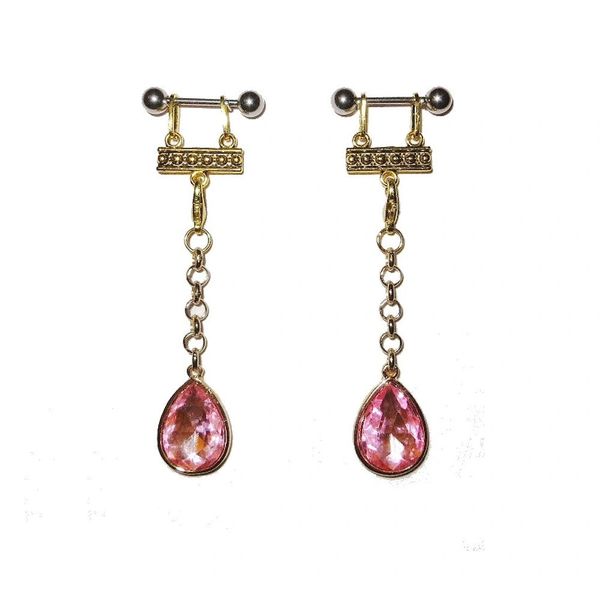 Z Sold - Pierced Nipple Bar Base Adaptors Under The Hoode Roman Elegance Goldtone Pink Rhinestone Teardrops
Pierced Nipple Bar Jewelry Charm Adaptors Pair - Roman Elegance Goldtone with Pink Rhinestone Teardrop Dangles (Large)
Under The Hoode Intimate Jewelry and Gifts

Base adaptors remain on the piercing bars for jewelry attachment.

Do you have pierced nipple bars and would like to change your nipple jewelry to match your outfit or fit your mood? It's quite bothersome to unscrew and screw ball ends every time you want to make a change. Under The Hoode pierced nipple bar base adaptors are decorative in design and contour around and underneath the nipple - designed for a piercing bar to quickly attach/detach/change your nipple jewelry charms quickly and easily without the inconvenience of managing the ball ends. Add the base adaptors to your bars then add and remove your nipple jewelry to the base adaptors.

Here's the description:

Nipple piercing base adaptors feed onto a piercing bar to allow attaching and removing charms, chains and jewelry cascades. Easy to use. Simply feed base adaptor onto piercing bar or ring and leave in place. Attach and remove jewelry cascades and charms to and from the base adaptors. Ornate design gives a decorative appearance to the nipples - even when charms or chains are not attached. Beautiful, goldtone Roman theme design like a decorative architrave, bold design with six nodes across the center; measures 3/4 inch wide and 3/4 inch long from bar to bottom of adaptor. Contains mixed metals; routine cleaning/maintenance.
Included rhinestone teardrop dangles: Solid composition, sparkling pink colored rhinestone teardrop charms; medium weight, strong swing motion with lots of movement for great vibration and stimulation; goldtone setting with a goldtone lobster claw clasp at the top to attach and remove to base adaptors. Dangle length is 2-1/2 inches from bottom of base adaptor and approximately 3-1/8 inches from the piercing bar when attached to adaptors.
** Piercing bars not included **
COPYRIGHTS: Under The Hoode and piercing bar base adaptors design/system are exclusive copyrights of Under The Hoode, LLC Feb. 2006 (c)