Z Sold - Pierced Nipple and VCH or Nonpiercing Insertable Bead Clit Jewelry Set Under The Hoode Winged Isis Crescent Shields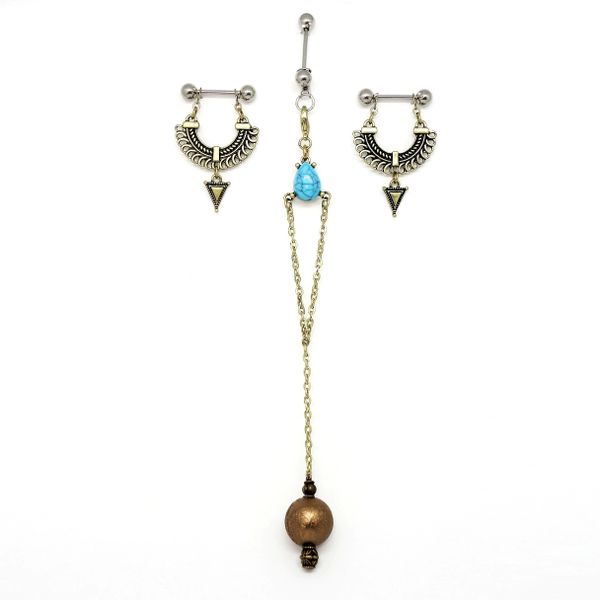 Z Sold - Pierced Nipple and VCH or Nonpiercing Insertable Bead Clit Jewelry Set Under The Hoode Winged Isis Crescent Shields
Pierced Nipple Jewelry Cascades Winged Isis Crescent Shields
AND
Matching Insertable Bead Clit Jewelry - VCH Piercing Jewelry with VCH Piercing Bar Base Adaptor <OR> Nonpiercing Clit Clip

This complete set includes:
>two pierced nipple jewelry cascades
>one clit jewelry cascade
>one clit jewelry base attachment - your choice of VCH piercing bar base adaptor or nonpiercing base clip

Descriptions:
>>Pierced nipple jewelry crescent shields with Egyptian theme design in brass tone finish, finished below with a matching brass tone charm dangle; charms measure 1-1/8 inch (30mm) across and approx. 1 -1/4 inch long to bottom of charm dangle; suspended from matching brass tone chains; total dangle length from the bar down to the bottom of the charm dangle is approx. 1-5/8 inches (42mm). *Piercing bars not included. Fits 12 and 14 gauge bars.

>>Insertable Bead Clit Jewelry available in Non-piercing Clit Clip or VCH Pierced Clit design.
   >VCH Piercing Jewelry Cascade features a matching theme with a faux turquoise focal teardrop, brass tone chain tassels that narrow to a single drop chain finished at the bottom with a bronzed 1/2 inch bead dangle; wear as a single drop dangle or insert to follow the chains home; lobster claw clasp at the top for quickly attaching and detaching from VCH piercing bar base adaptor. Total length is 5-1/2 inches (14cm). *Piercing bar not included
   >VCH piercing bar base adaptor included with VCH piercing style selection.  VCH base adaptor is a silver tone stainless steel element that feeds onto a VCH piercing bar or ring which allows for attaching and removing charms and jewelry cascades. Easy to use. Simply feed base adaptor onto piercing bar or ring and leave in place. Attach and remove jewelry cascades and charms to and from the available attachment ring. *Piercing bar not included
   >Nonpiercing Clit Clip Jewelry Cascade features same style above on nonpiercing base clip.  Illustrated instructions included with purchase. Stays on. Contains mixed metals and a removable small rubber insert on the base clip.

Items are not gift boxed.