Paris Nights Jewelry Ensemble Necklace and Earrings Set Under The Hoode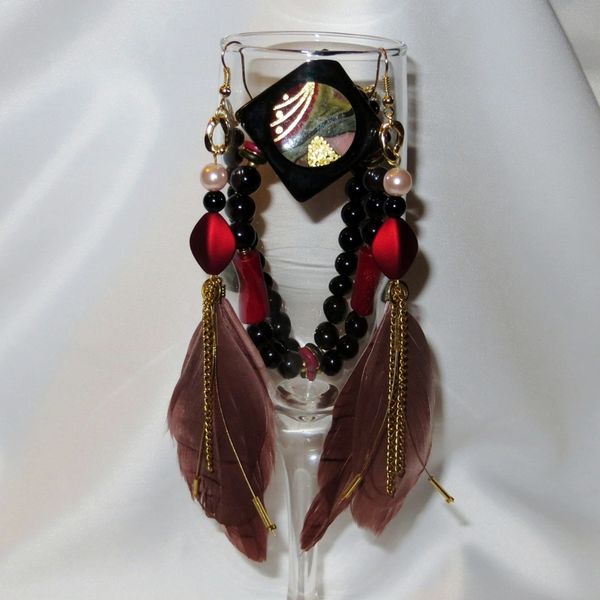 Paris Nights Jewelry Ensemble Necklace and Earrings Set Under The Hoode
Paris Nights Jewelry Ensemble
Under the Hoode Intimate Jewelry & Gifts
Ooooh lah lah! Where did you GET THAT?! Only at Under The Hoode!
Bistro cafes, open air markets, museums, and glittering nightlife. Fashion runways, parks, romance, and the Eiffel Tower. Transport yourself to Paris. This modern art inspired jewelry set can be easily dressed up or down, beautifully accenting your favorite pair of jeans and boots or that little black dress. The mixed media style of earrings and necklace gives the set a unique style that is sure to inspire compliments.
Maybe you're not in Paris tonight, but this custom created set may just make you feel like a Soir à Paris! Vibrant, rich reds against dark ebony elements contrasted with bright goldtone accents give this set an elegant, romantic ambience with a contemporary motif.
Ebony element necklace features a hand-crafted polymer focal piece with custom artisan hand-painted contemporary design center; piece measures 1-1/4 inch (3cm) square and is corner set, measuring approx. 1-1/8 inches across; focal element is a one of a kind, unique hand-crafted piece with rich abstract coloring in garnet red, soft mauve, and rich earthtone marbled coloring across the center; shimmering metallic gold colored accent paint brings the piece to life, complimenting the earthtone colors; ebony bead elements measure 1/4 inch (8mm) each, ending with four slightly smaller beads on each end to a large spring-ring (crab claw) clasp; accented with rich red contemporary elements and splashes of goldtone findings here and there to give it a bright pop! Necklace measures 16 inches and is designed to rest at the nape of the neck (non-adjustable length). This bold, dramatic necklace is deceivingly light weight with it's polymer, acrylic and plastic composition elements, making it easy to wear with a dramatic effect without uncomfortable heaviness.
Wisps of romance and elegance radiate from these coordinating pair of earrings, custom designed and created in complimentary color theme of the necklace. Rich, garnet red suede-like bead elements are contrasted with ebony accents and frosted blushing faux pearls; suspended from a single goldtone bold chain link and finished below with dark plum colored feathers embellished with goldtone chain tassels and shimmering goldtone glass piping beading on whisps of goldtone wire. Goldtone fish-hook style pierced earrings; feathers measure 3-1/2 inches; total dangle length is 6 inches measuring from the crest of the curve on the earring hook down to the bottom of the feathers.
Items are not gift boxed.