Z Sold Nonpiercing Nipple Chain Under The Hoode Austrian Crystal Swag Small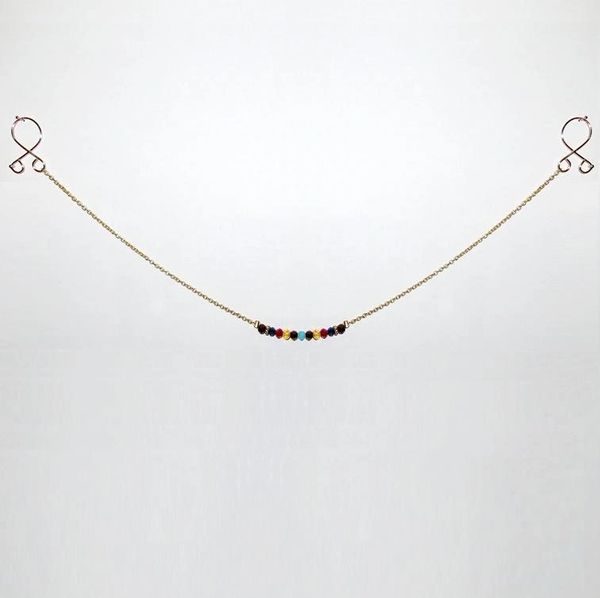 Z Sold Nonpiercing Nipple Chain Under The Hoode Austrian Crystal Swag Small
Nonpiercing Nipple Chain with Austrian Crystal Swag Small
Under The Hoode Intimate Jewelry & Gifts
Non-Piercing Wire Hoop Jewelry - Manually adjustable tension goldtone wire nipple jewelry features a delicate goldtone chain with a small length(1-1/2 inch/38mm) of sparkling Austrian crystals; total length is 10-1/4 inches (26cm); chain provides vibration with movement. Hoop diameter measures approx. 7/16 inch / 10mm with a bit of room to adjust smaller/larger. Not recommended for nipples that have short length when erect (ie. less than 3/16 inch). Adjust bottom arms outward and upward on nipple hoop until the desired tension is reached. NOTE: Under the Hoode recommends application of body adhesive around the base of the nipple prior to attaching the nipple jewelry to ensure secure attachment through playtime, in the water, and throughout the day for intended product results. Body adhesive and remover are sold in a dual sampler set.
Body adhesive and remover are sold in a dual sampler set: Body Adhesive & Remover Sampler Set
COPYRIGHTS: Under The Hoode and clip design are exclusive copyrights of Under The Hoode, LLC Feb. 2006 (c)
Why Under The Hoode Nipple Jewelry?
>>> **** Follow @underthehoode on INSTAGRAM for exclusive savings and feeds on all new webstore items !
COPYRIGHTS: Under The Hoode and clip design are exclusive copyrights of Under The Hoode, LLC Feb. 2006