Moonlight Couture Carnival Fascinator Bracelet Under The Hoode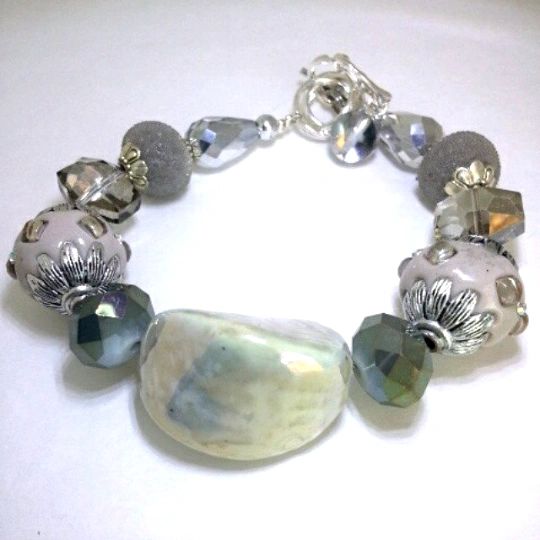 Moonlight Couture Carnival Fascinator Bracelet Under The Hoode
Where did you get that?! ........Only at Under The Hoode!
Moonlight Elegance Couture Carnival Bracelet
This carnival couture bracelet has a unique moonlight tone with its cool silver and blue-grey hues along with silvertone embellishments and sparkling Austrian crystals that offer a classical elegance to its design. Top quality beading that shows impeccable taste and demand for originality! Quality weight, custom designed hand-crafted creation features a large ceramic focal bead with a soft glow in a mix of soft white and silver-grey color glazed with a pearled opal clear coat that reflects hints of rainbow colors in the light; followed on each side by 3/8 inch smokey charcoal black Austrian crystal; complimented next with handcrafted grey focal beads embellished with sparkling crystals and silvertone crown findings on each end; followed by a 1/2 inch AB black diamond Austrian crystal; a 1/2 inch frosted grey, ultra fine raspberry surface crushed glass bead adorned on each end with a silvertone crown finding; followed by a sparkling AB Austrian crystal teardrop and finished at each end with a silvertone bead; silvertone bar closure and matching silvertone ring links allows sizing up to 10 inches; minimum size is 8 inches. Link adjustments are finished at the end with a silvertone heart charm and silverglass bead dangle to allow for decorative finish where the closure completes on the bracelet to give the design an overall complete, seamless finish on the arm.
Bracelet elements list - hand-crafted beading may have some slight imperfections:
(1) Large pearl coat high gloss finish moon theme ceramic bead (approx. 1-1/4 inch)
(2) Sparkling Austrian crystal charcoal black color beads (1/2 inch each)
(2) Handcrafted grey focal beads with crystal accents (3/4 inch each)
(2) AB black diamond Austrian Crystals (1/2 inch each)
(2) Crushed glass ultra fine raspberry surface grey beads (1/2 inch each)
(2) Sparkling AB Austrian crystal teardrops (1/2 inch each)
(2) Small silvertone beads (1/8 inch each)
(1) Silvertone bar fastener and 1-3/4 inch length adjuster chain
Item is not gift boxed.