Victorian Circus Elegance Carnival Couture Fascinator Bracelet & Clit Clip Under The Hoode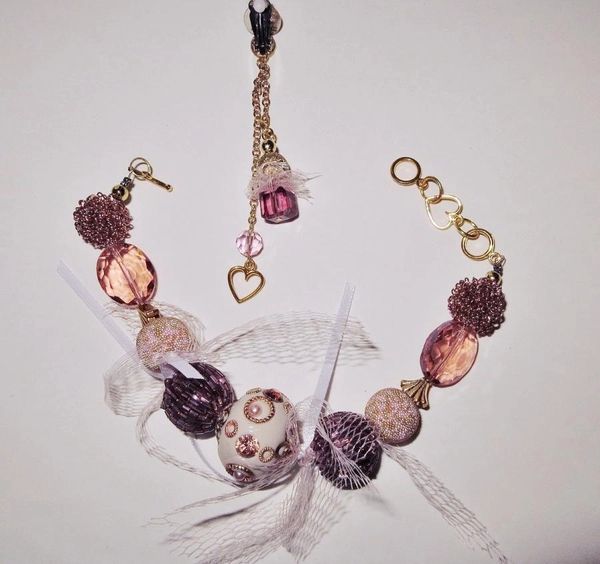 Victorian Circus Elegance Carnival Couture Fascinator Bracelet & Clit Clip Under The Hoode
Where did you get that?! .....Only at Under The Hoode!
Victorian Circus Elegance Carnival Couture Fascinator Bracelet & Clit Clip Set
This carnival couture bracelet has a unique Victorian tone with its blushing pink beads and hints of ivory and goldtone embellishments that offer a timeless, classical elegance to its design. Top quality beading that shows impeccable taste and demand for originality! Quality weight, custom designed hand-drafted beading features an antiqued ivory color large focal bead ornately designed with goldtone embellishments, faux pearls and sparkling rhinestones; scrolling crown findings on each end; followed by 3/4 inch beading with antiqued pink sequin overlay; complimented next with micro-raspberry textured blushing pink and goldtone beads, small goldtone fan charm findings, multi-faceted oval glass crystals in blushing pink color and finished at each end with rosey-gold wire netted beads and a small goldtone bead ending; accented with ivory satin finish ribbon ties and blushing pink netting embellishment that offer a contrasting hint of care-free shabby-chic boho flair; goldtone bar and hoop fasteners with a heart-shaped hoop snuggled in the mix; fits up to medium-large wrists sizes up to approx. 8 inches.
** Do you need this resized for a larger wrist? Please send me a message with the wrist circumference. Please allow 1-2 business days for resizing.

Bracelet elements list - hand-crafted beading may have some slight imperfections:

(1) Victorian theme design focal ivory ceramic bead (1 inch)
(2) Sparkling sequin overlay antiqued pink color beads (5/8 inch each)
(2) Micro-raspberry textured blushing pink & goldtone beads (1/2 inch each)
(2) Goldtone fan charm accent findings (1/4 inch each)
(2) Sparkling pink glass crystal oval shaped beads (3/4 inch each)
(2) Rosey-gold wire netted beads (1/2 inch each)
(2) Small goldtone beads (1/8 inch each)
(2) Blushing pink netting embellishments
(2) Satin soft ivory ribbon accents
(1) Goldtone bar fastener
(2) Goldtone hoop fasteners
(1) Goldtone heart hoop fastener
- durable wire stringing for lasting true form design
Matching Clit Clip - Silvertone base clip features elegant olde world Victorian theme design in blushing pink and goldtone finish: (1) pink crystal cube dangle accented above with a foiled finish goldtone bead, a high-glass smaller goldtone bead and a small bit of fanciful, blushing pink netting embellishment; (1) open-center goldtone heart charm dangle accented above with multi-faceted cut sparkling pink glass crystal; all suspended from goldtone chain tassels; very lovely; completely flexible; light weight; total length is 4-1/4 inches. Illustrated instructions included with purchase.

Items not gift boxed.