Z Sold - Flex Ribbon Torc Clit Chain and Nipple Clips Under The Hoode Kittens Play Serengeti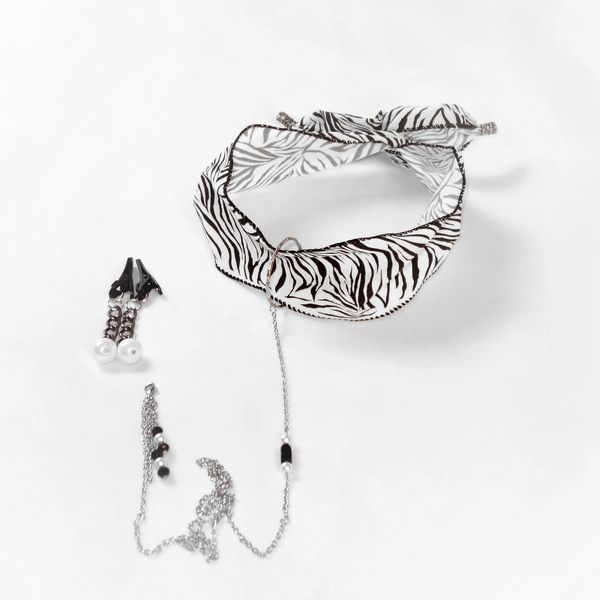 Z Sold - Flex Ribbon Torc Clit Chain and Nipple Clips Under The Hoode Kittens Play Serengeti
Kitten's Play Intimate Jewelry Body Set - Serengeti

This complete set includes:
> one VCH Pierced or Nonpierced Clit Body Chain
> one clit jewelry base attachment - your choice of VCH piercing bar base adaptor or nonpiercing base clip
> one Fabric Flex Ribbon Torc Choker

> one pair Nipple Clip Weights
Why ribbon necklaces and chokers? I prefer ribbons for several reasons. First and foremost, they're sexy.  Ribbons are just plain sexy. The texture is sexy, the soft curves are sexy, and the delicate tying process is sexy. Ribbons fit any size. Adjust the length easily to fit the neckline you are using or easily fits as a choker, no matter what neck size you are shopping for.  Ribbon necklaces and chokers don't 'spin around' with the clasps moving around to the front. Surprisingly, they are easy to care for.  Hand wash and/or cool iron as needed.
When Kitten is the prey, this is the perfect body set to live out that moment!

Soft zebra pattern flex ribbon torc choker necklace is one size (27-1/2 inches) giving you extra length ribbon to fit any neck size - can be worn alone with other set items, including the attachable/detachable clit body chain. Flexible fabric ribbon has stylish, wide profile that crinkles, waves, curves, collapses and returns to form for the most comfortable torc choker you'll find anywhere. Finished at the ends with ornate silvertone ends - quick and simple: place around the neck, twist the ends 2-3 times at the back of the neck, then compress the twisted area between your forefinger and thumb to reduce the profile to rest against the back of the neck. Flare the ends slightly to give it a finished look like the ends of a tied bow. Get ready to be amazed!

Cool iron to ribbon as needed.

Hand wash gently with fingertips in cool water with color safe detergent, air dry.

Clit body chain attaches to ribbon choker with a textured silvertone o-ring that easily slides onto the flex torc; silvertone body chain accented at the top with frosted white faux pearls and high end ebony glass focal element and ending with matching dangles and a lobster claw clasp for quickly and easily attaching to clit jewelry; end to end length is 28 inches.


Nipple clips/clamps feature black toothless polymer clips that offer constant pressure without harsh, toothed clamps; accented with 2 inch long single drop style weighted dangles in bold gunmetal black links with a single frosted white composite bead dangle at the bottom; assertive swing motion; clamp area measures 1/4 inch (7mm) wide and approximately .5 inches (12mm) deep; dangles provide vibration with movement.  Prepare nipple, peaking to erectness. Pinch to fit clip width with slight outward pull. Attach clip from underside of nipple and release.

Pierced or Nonpierced Clit jewelry base for body chain attachment.  Nonpiercing clit clip includes illustrated

instructions. Contains mixed metals and a small rubber insert on the base clip.

  VCH Piercing Bar Base Adaptor is stainless steel.

What is a VCH Piercing Bar Base Adaptor? Do you have a VCH piercing and would like to add and change jewelry charms? It's quite bothersome to unscrew and screw ball ends every time you want to make a change. Under The Hoode pierced bar base adaptors are designed and contoured around the ball end of the piercing bar, remaining on the bar to provide a place to easily attach/detach/change jewelry charms quickly and without the inconvenience of removing the ball ends.
A VCH base adaptor is a silver tone stainless steel element that feeds onto a VCH piercing bar or ring which allows for attaching and removing charms and jewelry cascades. Easy to use. Simply feed base adaptor onto piercing bar or ring and leave in place. Attach and remove jewelry cascades and charms to and from the available attachment ring. ** VCH Piercing bar not included **
>> Follow Under The Hoode on INSTAGRAM at  @underthehoode

COPYRIGHTS: Under The Hoode, clip design and Flex Ribbon Torc are exclusive copyrights of Under The Hoode, LLC Feb. 2006 (c)