Circus Clown Elegance Carnival Couture Fascinator Bracelet Under The Hoode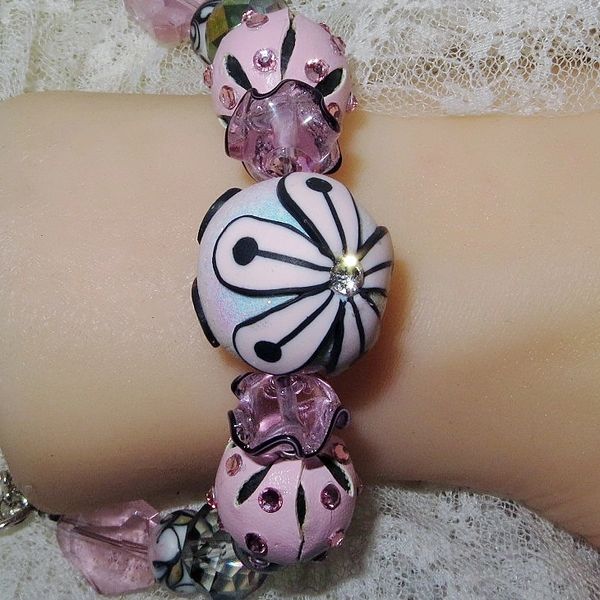 Circus Clown Elegance Carnival Couture Fascinator Bracelet Under The Hoode
Where did you get that?! ........Only at Under The Hoode!
Circus Clown Elegance Carnival Couture Fascinator Bracelet

This eye-popping designed circus clown in elegance carnival couture bracelet with top quality beading and crystals will be a fabulous hit! Quality weight, custom designed hand-crafted ceramic beading features fanciful, decorative accents, ornately designed in shades of pink and iridescent grey with contrasting black embellishments; bold, elegant AND fun all together in one stunning piece! Bracelet begins with a large, bold 1 inch bead with shimmering, sparkling finish and a large floral pattern with a sparkling crystal center and painted black accent in a circus clown design with star extensions ending with black dots; accented on each side with fluted pink glass collar beading edged with black paint; followed outwards by a 3/4 inch bead custom wrapped in faux pink leather with circus design cut-out patterns and embellished with tiny sparkling pink rhinestones; finishing along the length on each side out to the fasteners is a set of four beads: one 1/4 inch silver-grey bead painted with black and white absract lines in random scoring pattern, then a sparkling 1/2 inch AB iridescent smoke grey glass crystal bead, followed by a fanciful painted ceramic bead and a 3/4 inch long sparkling pink glass crystal abstract bead with a small silvertone bead at the end; fasteners are silvertone bar and hoop design. fits small to medium wrists sizes up to approx. 8 inches.

** Do you need this resized for a larger wrist? Please send me a message with the wrist circumference. Please allow 1-2 business days for resizing.

Bracelet elements list - hand created beading may have small or slight imperfections:

(1) Circus clown floral large focal bead (1 inch)
(2) Fluted glass pink and black collar beads
(2) Pink faux leather wrapped circus theme beads (3/4 inch each)
(2) Grey composite beads with black and white painted abstract scoring (1/4 inch each)
(2) AB sparkling smoke colored multi-faceted glass crystals (1/2 inch each)
(2) Hand-painted ceramic abtract beads (1/4 inch each)
(2) Sparkling multi-faceted abstract shaped pink glass crystal beads (3/4 inch each)
(2) small silvertone end beads (1/8 inch each)
(1) silvertone bar fastener
(3) silvertone hoop fasteners
- durable wire stringing for lasting true form design
Item is not gift boxed.