Z Sold - Ben Wa Jewelry Howlite Stone Yoni Stone Jewelry Yoni Egg Shimmering Moonlight Tassels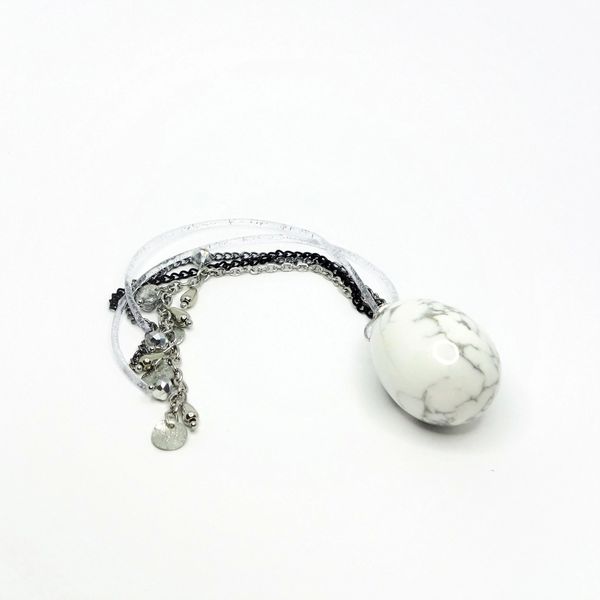 Z Sold - Ben Wa Jewelry Howlite Stone Yoni Stone Jewelry Yoni Egg Shimmering Moonlight Tassels
Ben Wa Jewelry Cascade Custom Howlite Stone Yoni Egg - Shimmering Moonlight Tassels
Read about Under The Hoode Ben Wa Jewelry

A twist on ben wa in a single bead jewelry design!  Provides excellent muscle toning. Ideal for Dom's no-panties submissive, enticing foreplay for couples, or just to enjoy for oneself.

Heavy stone jewelry cascade.  Custom designed and created howlite yoni egg ben wa jewelry cascade features a smoothly polished egg shaped marbled howlite stone which has beautiful grey color patterns; heavy weight stone measures approx. 1-1/2 inch long, 1 inch wide at the largest end; finished below with a cascade of beautiful silvertone and black chain tassels accented with shimmering and sparkling silver accent pieces, includes a silver glitter retrieval cord; all tassels intimately intertwine with each other with movement. Total length 7-1/4 inches (19 cm). 
All items are for jewelry wear, ornamental purposes only. >>Toys specific to sexual activity can be found at UnderTheHoode webstore under: Under The Hoode Toy Box.

Item is not gift boxed.

COPYRIGHTS: Under The Hoode and ben wa jewelry cascades are exclusive copyrights of Under The Hoode, LLC Feb. 2006 (c)