Z Sold - Anal Bead Jewelry Yoni Stone Anal Jewelry Cascade Anal Plug Butt Plug Masters Piece Leash Attachment Ring by Under The Hoode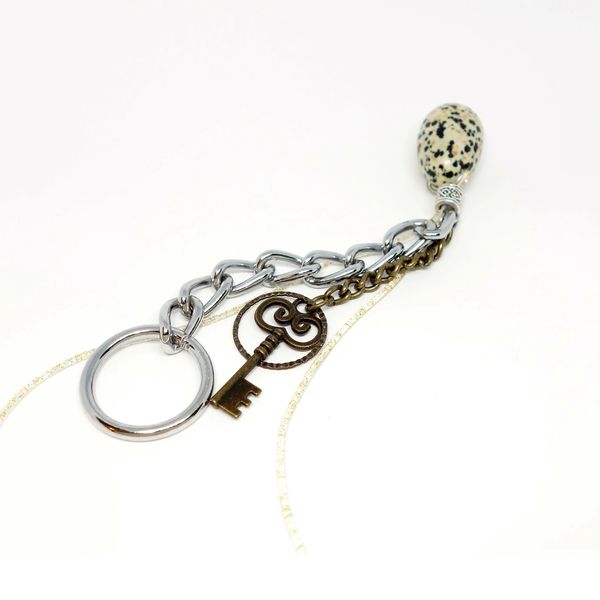 Z Sold - Anal Bead Jewelry Yoni Stone Anal Jewelry Cascade Anal Plug Butt Plug Masters Piece Leash Attachment Ring by Under The Hoode
Masters Piece Leash Attachment Ring  Anal Bead Jewelry Anal Plug Butt Plug
Yoni Stone Anal Jewelry Cascade  (Read about Under TheHoode Anal Jewelry Cascades here)
A good Dom often keeps his submissive under leash.... Custom designed yoni egg anal bead jewelry cascade features smoothly polished leopard jasper stone which has a beautiful naturally occurring speckled black and rust colors. Finished below with a large 1 inch stainless steel Oring suspended by stainless steel heavy weight bold link chain - can be used to attach a leash. Accompanied by heavy duty brasstone link chain finished with a matching brasstone Oring and ornate metal key charm with dual bulbous base head, a notched shaft and large sized bit end. Finished at the top with an ornate silvertone metal barrel bead. Bold link chains and golden glitter plastic retrieval cord. All tassels intimately intertwine with each other with movement.  6.5 in. (16.5cm) long. Not gift boxed.
Provides excellent anal stimulation. Perfect size for novice or experienced.  Excellent for Dom's no-panties submissive, enticing foreplay for couples, or just to enjoy for oneself.
All items are for jewelry wear, ornamental purposes only. >>Anal toys specific to sexual activity can be found at UnderTheHoode sex toy store affiliate: Under The Hoode Toy Box.

COPYRIGHTS: Under The Hoode and Anal Bead Jewelry Cascades are exclusive copyrights of Under The Hoode, LLC Feb. 2006 (c)