Nonpierced or Pierced Frenum Ring Glans Ring Cockring Penis Ring Designer Penis Jewelry Polished Shell Flex Style Pierced Cockring by Under The Hoode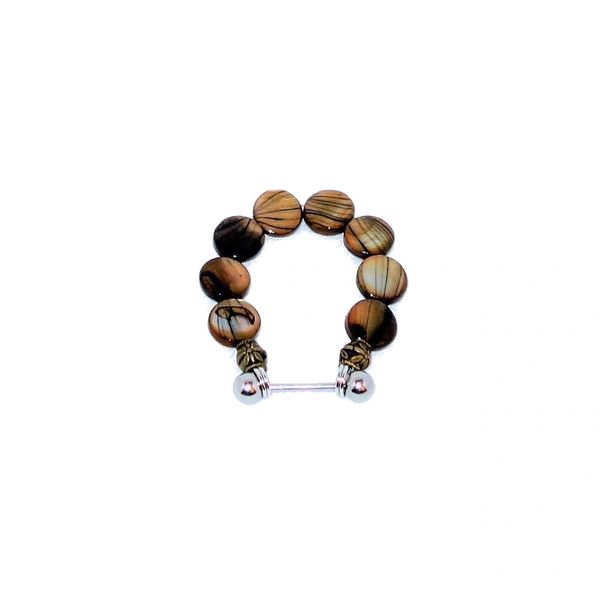 Nonpierced or Pierced Frenum Ring Glans Ring Cockring Penis Ring Designer Penis Jewelry Polished Shell Flex Style Pierced Cockring by Under The Hoode
Polished Shell Flex Style Pierced Cockring
Flex Style Pierced Cockring   (Read about Under The Hoode Flex Style Pierced Cockrings here)
Three measurements needed to order: Full circumference, Range, and piercing bar length.
*If providing in inches, please use standard ruler measures (ie. 3-3/16 inch) and not decimal measures (1.34 inch)
Read how to measure for a flex style pierced cockring here
Want this in a Nonpiercing Cockring Style? - Click here to Check Availability
Our Polished Shell casual wear flex style pierced frenum ring, glans ring, or cockring is created to your size and features handsome polished shell elements measuring 9mm diameter and approx. 2mm thick. Smoothly polished earthtone shades - each element has its own unique pattern. Light weight with double anchor point for pierced bar attachment. 
All cockrings are for casual jewelry wear, ornamental purposes only. Cockrings specific to sexual activity can be found at UnderTheHoode sex toy store affiliate: Under The Hoode Toy Box.


COPYRIGHTS: Under The Hoode, Flex Style Pierced Cockring and ring designs are exclusive copyrights of Under The Hoode, LLC Feb. 2006 (c)