Z Sold - Frenum Ring Glans Ring Cockring Penis Ring Designer Penis Jewelry Apocalypse Series GhostRider Flex Cuff Style Design Adjustable Cockring by Under The Hoode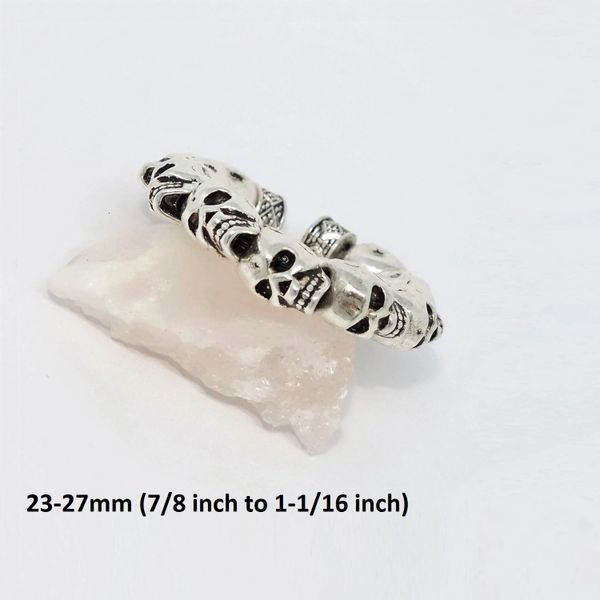 Z Sold - Frenum Ring Glans Ring Cockring Penis Ring Designer Penis Jewelry Apocalypse Series GhostRider Flex Cuff Style Design Adjustable Cockring by Under The Hoode
Apocalypse Series GhostRider Penis Ring
Flex Cuff Style Cockring   (Read about Under The Hoode Flex Cuff Style Cockrings here)
Diameter Size Range:
23mm-27mm (7/8 in. to 1-1/16 in.) Diameter = 72mm-85mm (2-3/4 in. to 3-3/8 in.) Circumference
Read how to measure yourself for a cockring here
Custom Sizing - Check Availability
Apocalypse Series GhostRider Cockring features silvertone metal skulls from end to end, intricately detailed with haunting, foreboding expressions; solid weight pieces, each piece can randomly pivot 45 degrees to left or right, giving the ring an appearance of looking everywhere at once with a piercing stare; finished on the ends with bold silvertone barrel ends; ring is solid composition, heavy weight, strong grip; flexible, adjustable cuff-style design ring can flex/adjust to slightly larger diameter and back, as needed. 8mm (5/16 inch) wide.  Not gift boxed.
All cockrings are for casual jewelry wear, ornamental purposes only. Cockrings specific to sexual activity can be found at UnderTheHoode sex toy store affiliate: Under The Hoode Toy Box.

COPYRIGHTS: Under The Hoode, Flex Cuff Style Cockring and ring designs are exclusive copyrights of Under The Hoode, LLC Feb. 2006 (c)