Z Sold - Submissive ASK BEFORE TOUCHING VCH Pierced Clit Jewelry or Nonpiercing Clit Clip Jewelry Under The Hoode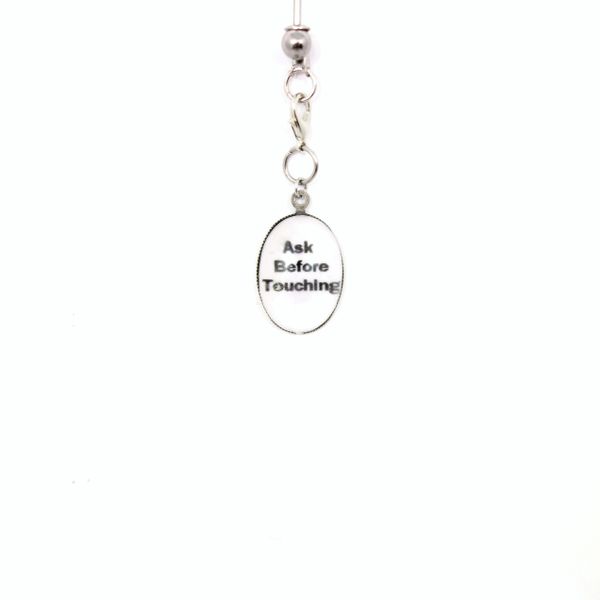 Z Sold - Submissive ASK BEFORE TOUCHING VCH Pierced Clit Jewelry or Nonpiercing Clit Clip Jewelry Under The Hoode
Clit Jewelry available in Non-piercing Clit Clip and VCH Pierced Clit designs.
Submissive Jewelry "Ask Before Touching" clit jewelry - As Is

Select VCH pierced or nonpiercing style when placing in cart.

VCH Pierced Clit Style Jewelry features a submissive clit jewelry charm "Ask Before Touching" in bold black font on white background; epoxy setting has a bubble area underneath which gives the message a wet look inside at some places. I'm not able to catch it in the photographs, but nonetheless it's still a great, functional piece. The epoxy does reflect the light as the charm moves however, font is bold and easy to read; light weight; lobster claw clasp at the top for quickly attaching and removing jewelry to VCH Pierced Hood Base Adaptor. Charm measures 1 inch (2cm) long by 3/4 inch wide. Total dangle length is 2 inches (5cm).

What is a VCH Base Adaptor? If you don't have a VCH base adaptor yet, you can include select one with your VCH jewelry purchase when placing in cart.
Do you have a VCH piercing and would like to add and change jewelry charms? It's quite bothersome to unscrew and screw ball ends every time you want to make a change. Under The Hoode pierced bar base adaptors are designed and contoured around the ball end of the piercing bar, remaining on the bar to provide a place to easily attach/detach/change jewelry charms quickly and without the inconvenience of removing the ball ends.
Base adaptors available for nipple and VCH piercing bars at Under The Hoode.
A VCH base adaptor is a silvertone stainless steel element that feeds onto a VCH piercing bar or ring which allows for attaching and removing charms and jewelry cascades. Easy to use. Simply feed base adaptor onto piercing bar or ring and leave in place. Attach and remove jewelry cascades and charms to and from the available attachment ring.
** Piercing bar not included **.

Nonpiercing Clit Clip Style Jewelry: Silvertone base clip design features same design above with a nonpiercing clit clip.

COPYRIGHTS: Under The Hoode and clip design are exclusive copyrights of Under The Hoode, LLC Feb. 2006 (c)