Z Sold Weighted Nipple Clamps Clips and Nonpiercing Clit Clip Jewelry Set Under The Hoode Arabian Nights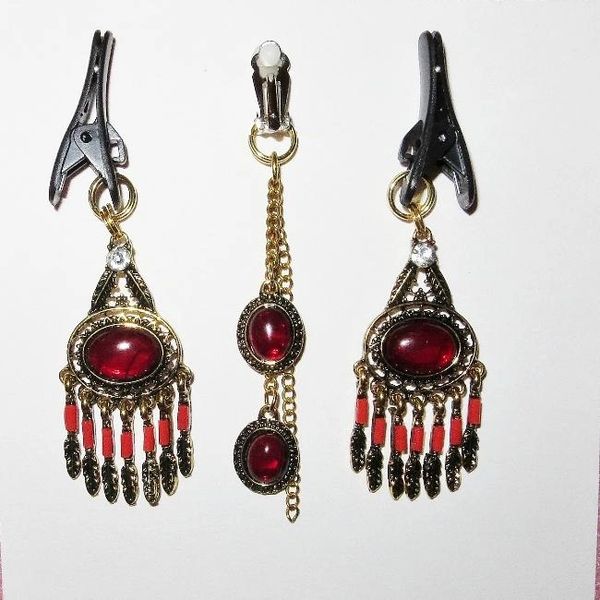 Z Sold Weighted Nipple Clamps Clips and Nonpiercing Clit Clip Jewelry Set Under The Hoode Arabian Nights
Weighted Nipple Clamps Clips and Nonpiercing Clit Clip Jewelry Set - Arabian Nights
Under The Hoode Intimate Jewelry & Gifts
Nipple clips/clamps feature black toothless polymer clips that offer constant, controlled pressure without harsh, forceful metal clamps with 1 inch brasstone ornate charm with beautiful, deep red focal center element; accented above with a sparkling crystal and below with seven dangles; clamp area measures 1/4 inch (7mm) wide and approximately .5 inches (12mm) deep; dangles provide vibration with movement. Solid composition, strong swing movement; total dangle length is 2 inches (5cm).
Matching clit clip features silvertone base clip with matching brasstone medallions, each with a beautiful, deep red focal element; ornately etches around the perimeter and suspended from brasstone chain tassels; nice swing motion; completely flexible; total length is 3 inches. Illustrated instructions included with purchase. Stays on. Contains mixed metals and removable small rubber insert on the base clip.
>>> **** Follow @underthehoode on INSTAGRAM for exclusive savings and feeds on all new webstore items !
COPYRIGHTS: Under The Hoode and clip design are exclusive copyrights of Under The Hoode, LLC Feb. 2006