Z Sold VCH Piercing Clit Chain Under The Hoode Tasselled Medallion Ribbon Choker & Body Chain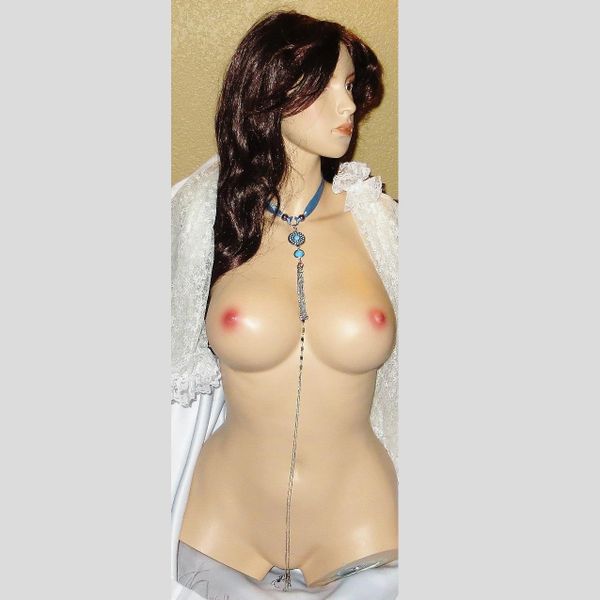 Z Sold VCH Piercing Clit Chain Under The Hoode Tasselled Medallion Ribbon Choker & Body Chain
VCH Pierced Clit Body Chain and Ribbon Choker Necklace Tasselled Medallion

Under The Hoode Intimate Jewelry and Gifts

Why ribbon necklaces and chokers? I prefer ribbons for several reasons. First and foremost, they're sexy. Ribbons are just plain sexy. The texture is sexy, the soft curves are sexy, and the process of unwrapping (removing) them is sexy. Extra length of ribbons cascading down the back is also sexy. Ribbons fit any size. Adjust the length easily to fit the neckline you are using or easily fits as a choker, no matter what neck size you are shopping for. Ribbon necklaces and chokers don't 'spin around' with the clasps moving around to the front. Surprisingly, they are easy to care for. Iron as needed; satin/polyester ribbons use cool iron; acetate/crisp ribbons use medium iron.
VCH Pierced Clit Style Jewelry features a blue and silvertone body chain necklace and attachable/detachable clit chain combination. Silky smooth satin ribbon choker necklace is one size (58 inches) with extra length ribbon to fit any size - features a 1 inch (2.5cm) diameter silvertone medallion charm accented with powder blue crystals; suspended from O-ring charm above and finished below with a matching powder blue acrylic piece followed by 3-1/2 inches (9cm) of silvertone chain tassels that slide seductively down the cleavage area, providing a silky soft caress with movement; optional clit chain that can be attached or detached from the choker necklace with a lobster claw clasp that attaches to a hidden split ring at the top of the silvertone tassel; clit chain features double strands of silky soft distressed silvertone chain accented at the torso and at the pubic area with a 3 inch strand of powder blue and metallic midnight blue crystals; each end sports a lobster claw clasp for quickly attaching and removing to VCH Pierced Hood Base Adaptor and choker necklace. Body chain length is 30 inches (76cm) from end to end and attaches to the choker necklace near the breast bone area . Cool iron to ribbon as needed.
What is a VCH Base Adaptor? If you don't have a VCH base adaptor yet, you can include select one with your VCH jewelry purchase when placing in cart.

Do you have a VCH piercing and would like to add and change jewelry charms? It's quite bothersome to unscrew and screw ball ends every time you want to make a change. Under The Hoode pierced bar base adaptors are designed and contoured around the ball end of the piercing bar, remaining on the bar to provide a place to easily attach/detach/change jewelry charms quickly and without the inconvenience of removing the ball ends.

A VCH base adaptor is a silvertone stainless steel element that feeds onto a VCH piercing bar or ring which allows for attaching and removing charms and jewelry cascades. Easy to use. Simply feed base adaptor onto piercing bar or ring and leave in place. Attach and remove jewelry cascades and charms to and from the available attachment ring.

** Piercing bar not included **

Base adaptors available for nipple and VCH piercing bars at Under The Hoode.

Nonpiercing Clit Clip Style Jewelry: Silvertone base clip design features same design above with a nonpiercing clit clip.
>> Follow Under The Hoode on INSTAGRAM at @underthehoode to see new items listed in the webstore and receive exclusive coupon savings!
COPYRIGHTS: Under The Hoode and clip design are exclusive copyrights of Under The Hoode, LLC Feb. 2006 (c)