Z Sold - VCH Pierced Clit Body Chain Pierced Nipple Chain and Necklace Elegant Crystals Set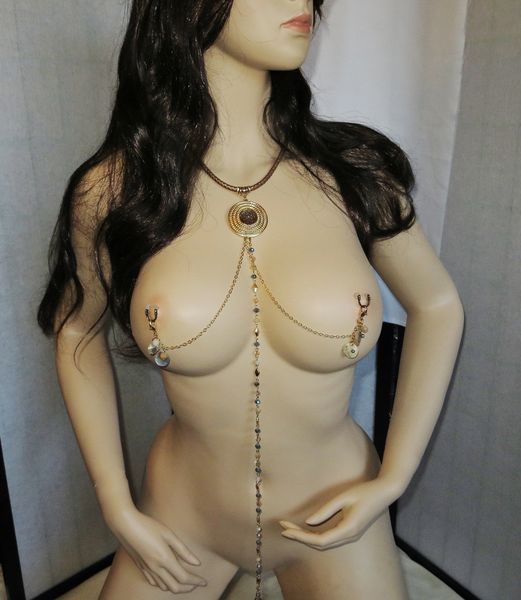 Z Sold - VCH Pierced Clit Body Chain Pierced Nipple Chain and Necklace Elegant Crystals Set
Full Pierced Body Chain Set - Elegant Austrian Crystals
VCH Pierced Clit Body Chain, Pierced Nipple Chain and Medallion Necklace
This set includes:

- Necklace
- Nipple Chains
- Pierced Nipple Bar Adaptors (set of two)
- Pierced Clit Chain
- VCH Piercing Bar Base Adaptor
Under The Hoode Intimate Jewelry and Gifts
VCH Pierced Clit Style Jewelry features a beautiful, full body piercing chain set in goldtone, earthtone, and ocean blue colors.

> This set begins with a copper brown braided necklace with goldtone cap ends and goldtone ring sliders; accented at the center with a large goldtone medallion charm (1-3/4 inches diameter) with tiny studded detail design and a 3/4 inch focal center in a sparkling copper brown color raspberry textured element; medallion is solid composition, heavy weight.
>Two pierced body chains attach behind the medallion and extend to VCH piercing and pierced nipples:
Nipple Chain features bright goldtone chains measuring 10 inches long with lobster claw clasps at each end to attach to necklace and pierced nipple bar adaptors; includes decorative nipple jewelry design at the end with paua shells and shimmering sand colored Austrian crystal dangles. Includes set of two brasstone pierced nipple bar base adaptors. Pierced nipple base adaptors feed onto the pierced nipple bars and remain on the bar to attach and remove nipple charms to without unscrewing and screwing ball ends to add jewelry.
VCH Pierced Clit chain features an entire body length of sparkling Austrian crystals forming a long chain from the necklace down to the VCH piercing. Beautiful ocean blue crystals along with shimmering earthtone color crystals and goldtone diamond shaped spacers give the body chain lots of sparkle with movement in the light - very eye catching! Includes VCH pierced clit bar base adaptor which feeds onto the VCH piercing bar and remains there for attaching and removing jewelry without unscrewing and screwing ball ends to add jewelry. Clit body chain length is 31 inches.
**This set includes VCH piercing bar base adaptor AND pierced nipple bar base adaptors**

What is a VCH Base Adaptor? Do you have a VCH piercing and would like to add and change jewelry charms? It's quite bothersome to unscrew and screw ball ends every time you want to make a change. Under The Hoode pierced bar base adaptors are designed and contoured around the ball end of the piercing bar, remaining on the bar to provide a place to easily attach/detach/change jewelry charms quickly and without the inconvenience of removing the ball ends.
A VCH base adaptor is a silvertone stainless steel element that feeds onto a VCH piercing bar or ring which allows for attaching and removing charms and jewelry cascades. Easy to use. Simply feed base adaptor onto piercing bar or ring and leave in place. Attach and remove jewelry cascades and charms to and from the available attachment ring.

** Piercing bars not included **

Find more base adaptors for nipple and VCH piercing bars at Under The Hoode.
This set available for pierced clit and nipples only - nonpiercing not available.
>> Follow Under The Hoode on INSTAGRAM at @underthehoode to see new items listed in the webstore and receive exclusive coupon savings!
COPYRIGHTS: Under The Hoode and clip design are exclusive copyrights of Under The Hoode, LLC Feb. 2006 (c)