Z Sold VCH Jewelry or Nonpiercing Clit Clip & Anal Bead Cascade Set Under The Hoode Dom submissive Theme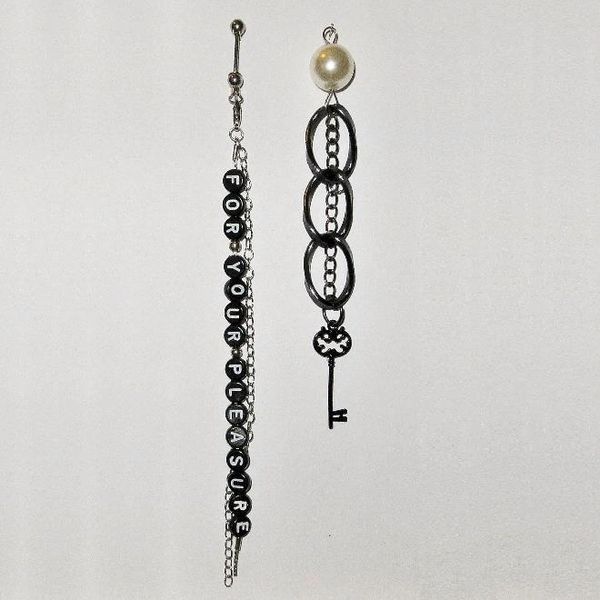 Z Sold VCH Jewelry or Nonpiercing Clit Clip & Anal Bead Cascade Set Under The Hoode Dom submissive Theme
SOLD - Thank-you!!
VCH Clit Piercing and Anal Bead Jewelry Cascade
Dom submissive Theme - Two pieces can be combined to one
Under the Hoode Intimate Jewelry and Gifts
Like this piece but no hood piercing? Select Non-piercing Clip option to have this converted to a clip with all the same functionality!
If you don't have a base adaptor yet, you can opt to include one when adding jewelry to cart. (Base adaptor remains on the piercing bar or ring for jewelry attachment.)
VCH piercing jewelry and Anal bead jewelry cascade set features two items than can be combined to one:
> VCH jewelry cascade features the infamous submissive phrase of submission "For Your Pleasure" in black and white with bold letters, accented with a length of silvertone chain; total dangle length is 8 inches and perfect for a no-panties day with a dress or skirt - long enough to be seen and enjoyed by others!; lobster claw clasp at the top quickly attaches to VCH base adaptor. Contains mixed metals.
> Anal bead jewelry cascade features a 5/8 inch composite bead in frosted ivory white finished below with gunmetal black chain, large 1 inch links accented with a length of smaller bold-link chain tassel; features a 1-3/4 inch long black key charm with ornately scrolled head and long shaft; split ring keeper to attach the "For Your Pleasure" message piece to; dangle length measures 5 inches to bottom of key charm; total length is 6 inches.
*VCH base adaptor is silvertone stainless steel that feeds onto a VCH piercing bar or ring which allows for attaching and removing charms and jewelry cascades. Easy to use. Simply feed base adaptor onto piercing bar or ring and leave in place. Attach and remove jewelry cascades and charms to and from the available attachment ring.
** Piercing bar not included **
Under The Hoode and base adaptor design are exclusive copyrights of Under The Hoode, LLC Feb. 2006

Read about Under The Hoode Ben Wa Jewelry