Z Sold Southwestern Choker Necklace Heavy Weight with Nonpiercing Clit Clip and Nipple Jewelry Under The Hoode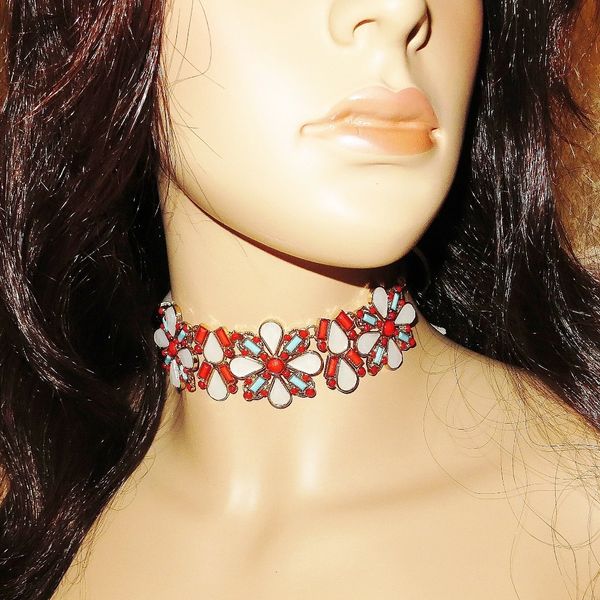 Z Sold Southwestern Choker Necklace Heavy Weight with Nonpiercing Clit Clip and Nipple Jewelry Under The Hoode

Southwestern Choker Necklace - Heavy Weight with Matching Nonpiercing Nipple Jewelry and Clit Clip

Under The Hoode Intimate Jewelry and Gifts

Why satin cord necklaces and chokers? I prefer satin cords for several reasons. First and foremost, they're sexy. The texture is soft, silky and sexy, The process of untying (removing) them can be sexy. Satin cords fit any size. Adjust the length easily to fit the neckline you are wearing or easily fits as a choker, no matter what neck size you are shopping for. Satin cord necklaces and chokers don't 'spin around' with the clasps moving around to the front.

Southwestern theme design floral elements feature faux mother of pearl petals accented with criss-cross geometric pieces of circles and rectangles in pale Indian corn blue along with varying shades of terra cotta; goldtone settings with jointed connections for flexibility; floral elements measure 1-1/2 inches each and feature a double teardrop spacer element between each one; focal element ensemble is heavy weight and measures 5-1/2 inches across all together; finished on each side with silky soft, shimmering white satin cords that easily fits any size, stays securely yet offers quick, easy and sexy.... removal! Ends permanently sealed; total length from end to end is 41 inches.

Nipple Jewelry - Manually adjustable goldtone wire hoop nipple jewelry features matching Southwestern American theme design with geometric goldtone charm box-and-teardrop-style element with frosted white teardrop and shimmering terra cotta rhinestone; accented with bold link chain tassel and tiny sky blue accent bead dangle; total dangle length measures 1 inch (2.5cm); motion and vibration with movement. Adjust arms outward and slightly upward working with wire to maintain shape. NOTE: Under the Hoode recommends application of body adhesive around the base of the nipple prior to attaching the nipple jewelry to ensure secure attachment through playtime, in the water, and throughout the day for intended product results. Body adhesive and remover are sold in a dual sampler set. Not recommended for nipples that have short length when erect (ie. less than 3/16 inch); amount of adhesive varies per person and should be adjusted according to individual needs.
Matching Clit Clip features a silvertone nonpiercing base with two focal piece goldtone oval links measuring 1.5 inches each accented with matching bold link goldtone chain tassel; completely flexible, light medium weight; flowing swing motion; measures approx. 3.5 inches to bottom of focal links; total length is approx. 4.5 inches to bottom of tassel. Illustrated instructions included with purchase. Stays on. Contains mixed metals and a removable small rubber insert on the base clip.
Items are not gift boxed.
Body adhesive and remover are sold in a dual sampler set: Body Adhesive & Remover Sampler Set

**FOR PIERCED NIPPLES: Nipple jewelry can be worn behind pierced nipple bars by removing nipple bars, placing nipple loops around nipple, adjust tension as desired, then reinsert pierced bars.

COPYRIGHTS: Under The Hoode and clip design are exclusive copyrights of Under The Hoode, LLC Feb. 2006 (c)