Z Sold Expandable Cockring Camo with Chain Swag & Hematite Dangle Under The Hoode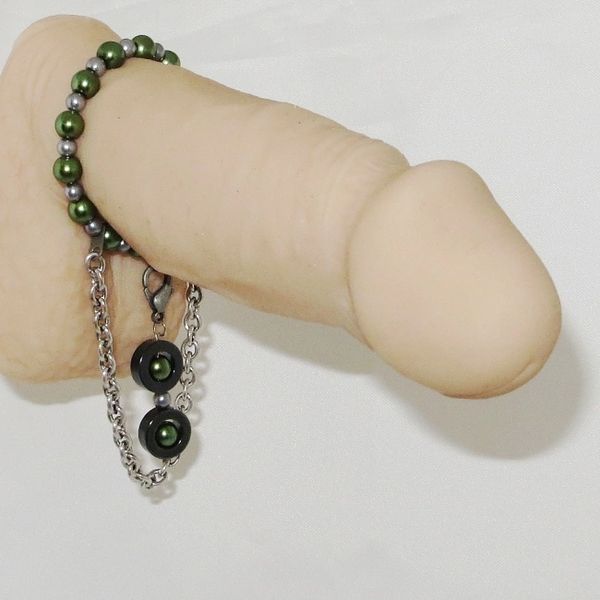 Z Sold Expandable Cockring Camo with Chain Swag & Hematite Dangle Under The Hoode
WEAR THE BEST

Gent''s Choice Penis Shaft Collar Ring Sleeve Mens Intimate Jewelry
Expandable Cockring Camo with Chain Swag & Hematite Dangle Under The Hoode

Under The Hoode Intimate Jewelry and Gifts

Expandable mens cock ring features camo green beading with bold link silvertone chain swag; pre-made unstretched size measures 1-1/2 inches (38mm) diameter and stretches to accommodate your girth and allow for expansion and contraction as needed; fits average size; sits nicely at the base with chain swag movement along the testicles/scrotum; chain swag dangle length is 2 inches; includes 1 inch double hematite dangle with matching camo green and grey beads; clasp at top to attach and detach from cockring.
HOW TO MEASURE for this item: Wrap a cord or other material all the way around during relaxed state. This is the circumference. Measure that length against a ruler. The measurement for this item should not be less than 4-3/4 inches (12cm).
Item is not gift boxed.
Ever wonder how it would feel to be held all day long...?
Here's what some customers have said about their custom pieces:
"It's an erotic experience to slip one on!" A. from Northeast US
"I really enjoy the look of them." A. in Pennsylvania
"Very nice!" V. in New York
COPYRIGHTS: Under The Hoode and Gent's Choice are exclusive copyrights of Under The Hoode, LLC Feb. 2006 (c)