Z Sold VCH Piercing Clit Jewelry Charm Under The Hoode Pierced Pussy Choker & Body chain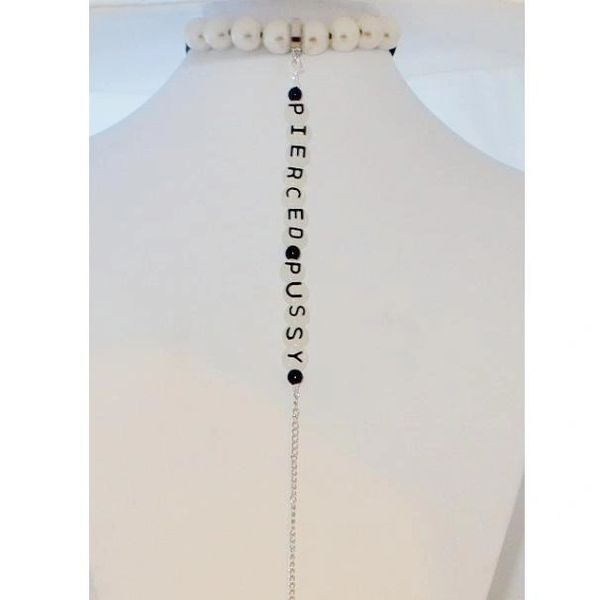 Z Sold VCH Piercing Clit Jewelry Charm Under The Hoode Pierced Pussy Choker & Body chain
SOLD! - to a pierced pussy in the U.K. - Thank-you!!
Do you need one of these for your kitten? Send Request to Under the Hoode Or, send a request through the Contact Us page.
VCH piercing jewelry set features bold Ds theme design black satin ribbon choker with eight frosted ivory bold pearls with a silvertone Oring charm at the center to clip a charm or body chain onto; includes sexy body chain attachment in silvertone finish with large, bold 1/4 inch acrylic lettering "PIERCED PUSSY" message with a clasp at each end to be attached to the choker necklace and also attached to the VCH pierced clit; total ribbon length is 35 inches to adjust to any size neck; body chain length is 30 inches and attaches quickly to choker and VCH base adaptor. Note: Item contains mixed metals. Cool iron to ribbon as needed.

VCH Piercing Clit Jewelry Stainless Steel Base Adaptor sold separately: VCH Piercing Base Adaptor
VCH base adaptor is silvertone stainless steel that feeds onto a VCH piercing bar or ring which allows for attaching and removing charms and jewelry cascades. Easy to use. Simply feed base adaptor onto piercing bar or ring and leave in place. Attach and remove jewelry cascades and charms to and from the available attachment ring.

** Piercing bar not included **

COPYRIGHTS: Under The Hoode and clip design are exclusive copyrights of Under The Hoode, LLC Feb. 2006 (c)