Z Sold Cock Ring Penis Ring Mens Intimate Jewelry Silvertone Short Spike Hematite Under The Hoode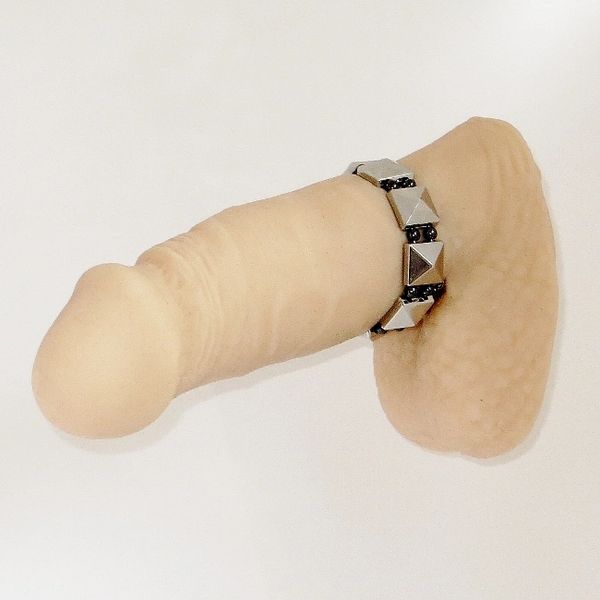 Z Sold Cock Ring Penis Ring Mens Intimate Jewelry Silvertone Short Spike Hematite Under The Hoode
WEAR THE BEST

Gent's Choice Self Adjusting Size Custom Penis Ring Cock Ring Mens Intimate Jewelry
WEAR THE BEST
Gent's Choice Self Adjusting Size Custom Penis Ring Cock Ring Mens Intimate Jewelry

Silvertone Short Spike Hematite Accents

QUICK REF GUIDE - CASUAL WEAR CUSTOM COCKRING JEWELRY
RING WIDTH: Narrow 10mm (3/8 inch)
RING STYLE: Adjustable
RING DESIGN NOTES: Tension assembly will expand/adjust, maintaining original uniform appearance -no spaces or gaps
Smallest sizing info for this ring:
SMALLEST DIAMETER: 40mm (1-1/2 inch)
SMALLEST CIRCUMFERENCE: 120mm (4-11/16 inch)
Will this adjust to larger sizing?: Yes
LARGEST DIAMETER: unlimited
LARGEST CIRCUMFERENCE: unlimited
Under The Hoode Intimate Jewelry and Gifts
Casual wear self adjusting, expandable mens cock ring features silvertone short spike metal elements accented with hematite spacers; steel spring assembly to allow for expansion and contraction as needed.

This item is an un-stretched minimum size of 1-1/2 inches (4cm) interior diameter (equivalent circumference measurement = approx. 4-11/16 inch (120mm) around). Fits up to 2-1/8 inches diameter (54mm) = approx. 6-5/8 inches (170mm) girth/circumference.

[If you would like to measure for this item, using a string or other material measure all the way around the area where the ring will be worn. Measure the length against a ruler. The length should not be less than 4-11/16 inch (120mm).]
Item is not gift boxed.
A great gift - no measuring needed. Expands to the perfect fit!
COPYRIGHTS: Under The Hoode and Gent's Choice are exclusive copyrights of Under The Hoode, LLC Feb. 2006 (c)