Boston Celtics NBA Team Custom Fit Stone Bracelet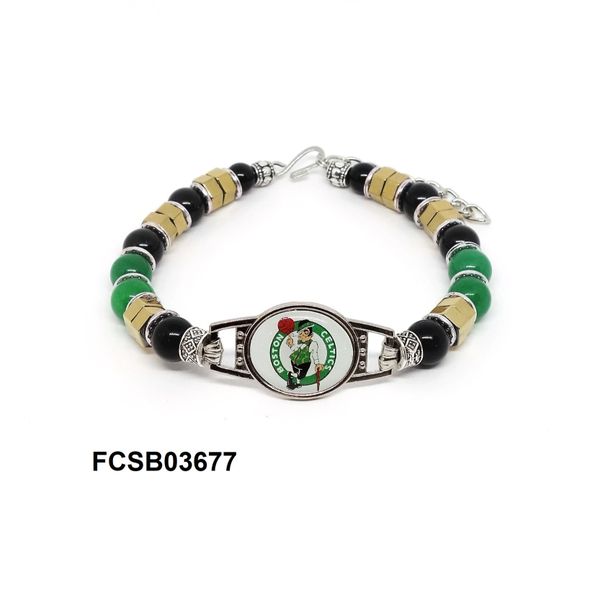 Boston Celtics NBA Team Custom Fit Stone Bracelet
NBA Basketball Fan Bracelet Boston Celtics Custom Stone Bracelet
Top Shelf Quality –
Made to your perfect size
Steel Cable Construction
Metal Composition
Stainless steel
Enamel Overlay
Stone / Semi-precious stone
Easy fish-hook catch
Extensions that resist separating
Look no further if you are looking for the best. These items begin with steel cable construction and just get better from there. Custom designed stone / semi-precious stone bracelets feature bold metal nuts along with bold team logos and colors guaranteed to get a second, envious look from others - even if they aren't Celticss fans. Silvertone and goldtone metal stabilizer bars hold alignment around the wrist - no swimming or wandering pieces; stainless steel team logo charms with enamel inlay for permanent, crisp colors and a design that raises the standard to a whole new level that completely encircles the wrist - not just the top of your forearm; barrel ends feature an easy to secure traditional fish-hook closure design with extensions that resist separating.
Bracelets measure 3/8 to 1/2 inch wide. Wide enough to wear alone but narrow enough to easily layer with other wrist jewelry.
Items are not gift boxed.
FCSB02112 - Mens Unisex Boston Celtics Custom Stone Bracelet
Black Jasper Stone, Green Jade, Yellow Jade, Hex Nuts, Stainless steel logo charm, Metal spacers, Steel cable construction. Charm Width: 3/4 inch. Width: 1/2 inch
FCSB03690 - Mens Boston Celtics Custom Stone Bracelet
Black Jasper Stone, Double Row Hex Nuts, Stainless steel logo charm, Metal spacers, Steel cable construction.  Charm Width: 3/4 inch.  Width: 5/8 inch 
 
FCSB03684 - Mens Boston Celtics Custom Stone Bracelet
Hematite Stone, Double Row Hex Nuts, Stainless steel logo charm, Metal spacers, Steel cable construction.  Charm Width: 3/4 inch.  Width: 5/8 inch

FCSB03688 - Mens Boston Celtics Custom Stone Bracelet
Black Quartz Stone, Black Jasper Stone, Stainless steel logo charm, Metal spacers, Steel cable construction.  Charm Width: 3/4 inch.  Width: 1/2 inch 
FCSB03683 - Mens Boston Celtics Custom Stone Bracelet
Green Quartzite Stone, Hex Nuts, Stainless steel logo charm, Metal spacers, Steel cable construction.  Charm Width: 3/4 inch.  Width: 3/8 inch  
FCSB03680 - Mens Boston Celtics Custom Stone Bracelet
Silver Hematite Stone, Hex Nuts, Stainless steel logo charm, Metal spacers, Steel cable construction.  Charm Width: 3/4 inch.  Width: 3/8 inch 
FCSB03679 - Mens Boston Celtics Custom Stone Bracelet
Black Jasper Stone, Hex Nuts, Stainless steel logo charm, Metal spacers, Steel cable construction.  Charm Width: 3/4 inch.  Width: 3/8 inch

FCSB03673 - Mens Boston Celtics Custom Stone Bracelet
Hematite Stone, Hex Nuts, Stainless steel logo charm, Metal spacers, Steel cable construction.  Charm Width: 3/4 inch.  Width: 3/8 inch 
FCSB03677 - Mens Boston Celtics Custom Stone Bracelet
Black Jasper Stone, Green Quartzite Stone, Hex Nuts, Stainless steel logo charm, Metal spacers, Steel cable construction.  Charm Width: 3/4 inch.  Width: 3/8 inch