Z Sold - Boho Denim Jasper Stone Bamboo Fiber Shabby Chic Urban Metro Bracelet Jewelry Punk Hobo Gypsy Charm Adjustable Bracelet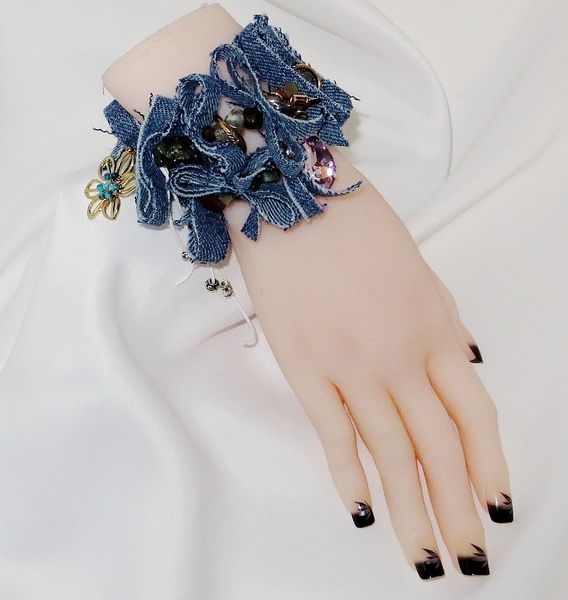 Z Sold - Boho Denim Jasper Stone Bamboo Fiber Shabby Chic Urban Metro Bracelet Jewelry Punk Hobo Gypsy Charm Adjustable Bracelet
Upscale Downtown :  Boho Denim  :  Shabby Chic  :  Bayou Gypsy  :  Urban Metro
Denim Punk  :  Hobo Style  :  Motown Flair  :  Rege Fashion  :  Freestyle Statement
...........Or, is it simply Back to Nature Jasper Stone & Bamboo Fiber ?

OOAK!!  This amazing piece is one of a kind and super, super soft!   
INVEST in The Best! 

Steel spring base construction will last a lifetime and more. No stretch filament that sags or breaks. Top quality materials including real jasper stone, real bamboo fiber, and metal beading.
One size fits all wrap around adjustable tension cuff style bracelet for amazing comfort! 
Whatever style you're into, this custom designer upcycled denim statement bracelet will add that perfect finishing touch to your day.  SUPER SOFT - and hypo allergenic construction to boot!  Indigo blue denim accented with beautiful, natural jasper stone pieces all the way around!  Includes white natural bamboo fiber with silvertone bead dangle sliders; you'll find a treasury of trinket attachments all around the bracelet! - bold goldtone floral charms with pink and blue beading centers, antiqued coppertone rope Oring charms.... Oh, and don't forget the Pink! - jumbo sparkling pink rhinestone teardrop dangle - well..., just because! :) 

Item is not gift boxed.