Ben Wa Jewelry Nipple Clip Set Faux Red Coral Tassels by Under The Hoode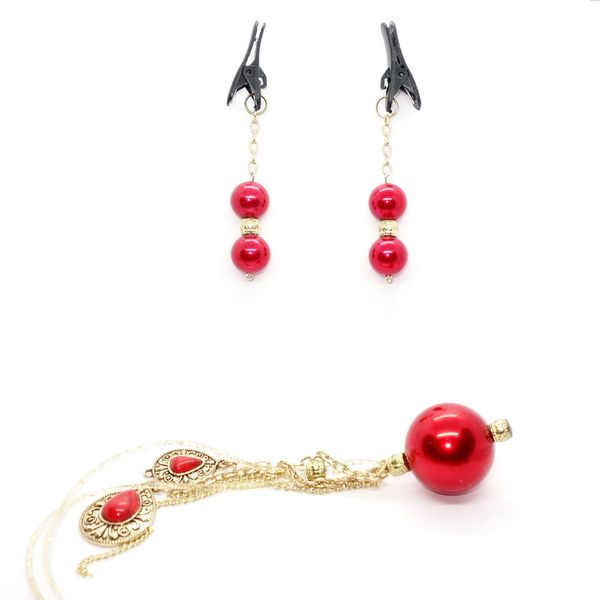 Ben Wa Jewelry Nipple Clip Set Faux Red Coral Tassels by Under The Hoode
Faux Red Coral Tassels Ben Wa Jewelry & Nipple Clip Jewelry Set

(Read about Under The Hoode Ben Wa Jewelry Cascades here)
Custom designed ben wa bead jewelry cascade features a 1 inch composite bead in rich frosted red color with a cascade of goldtone chain tassels below, accented with two ornate teardrop charms and faux red coral focal elements. End-capped with decorative barrels. 6 inches long. Not gift boxed.
Great for muscle training and toning.  Excellent for Dom's no-panties submissive, enticing foreplay for couples, or just to enjoy for oneself.
All items are for jewelry wear, ornamental purposes only. >>Toys specific to sexual activity can be found at UnderTheHoode sex toy store affiliate: Under The Hoode Toy Box.
Matching nipple clips feature black toothless polymer clips that offer constant pressure without harsh, toothed clamps accented with dual frosted red composite beads with a decorative goldtone barrel center, suspended from goldtone links; clamp area measures 1/4 inch (7mm) wide and approximately .5 inches (12mm) deep; dangles provide vibration with movement.  Total dangle length is approx. 2 inches. Prepare nipple, peaking to erectness. Pinch to fit clip width with slight outward pull. Attach clip from underside of nipple and release.
COPYRIGHTS: Under The Hoode, Ben Wa Jewelry Cascades and Nipple Clips design are exclusive copyrights of Under The Hoode, LLC Feb. 2006 (c)